During our lifetime we all have heard about 'vitamins' and their importance in sustaining the body functions. So basically the general fact that almost all people know is that vitamin is essential, but the right question is why?
In scientific terms vitamins are a group of non synthesizable organic compounds which our body requires in small amounts to sustain body functions such as metabolism, disease resistance etc..
To provide this essential nutrients we depend on our mother nature's products. Vitamin A falls under the category of fat soluble vitamins along with D, E and k.  Vitamin A has been reported to play a serious role in managing the following functions:
Maintain vision
Revitalizing our immune system.
Bone development
Reproduction and cellular functions.
Development of tooth.
An antioxidant to fight cancer.
Hormonal balance.
Here we will discuss the necessity of vitamin A in keeping healthy testosterone levels. We will also focus on its sources and potential side effects.
Relation between vitamin A and testosterone
As a member of the vitamin family, vitamin A contributes significantly to our health, which even includes hormonal activities.  An experimental study was performed to assess the relationship between nutritional supplementation, growth and puberty.
For this study hundred and two boys, belonging to the age group between 13- 15 years, and who were suffering from delayed puberty and height problems were assessed for experimental objective.
The boys were given nutritional and hormonal therapy and the parameters taken for consideration were their height, weight, signs of puberty, nutrition chart, iron and vitamin A levels, and antibody levels. After a 6 month long session following results were noted-
Vitamin supplementation facilitated growth in boys suffering from short stature.
Pubertal onset for the testosterone treated group was within 9-12 months and groups that had vitamin A supplementation showed signs of elevated puberty levels within 12 months.
This phenomenal study compelled the researchers to conclude that vitamin A is an etiological factor when it comes to puberty and maturation. Thus, vitamin A supplementation plays a vital role in optimizing the hormonal balance and delayed puberty.
Abundant research in animal sector has revealed the necessity of vitamin A in our diet for the required testosterone production. Vitamin A has the ability to cross the barrier between the testes and blood in its alcohol form retinol, where it gets accumulated in the Sertoli cells. In the Sertoli cells the retinol form of vitamin A transforms into its biologically active form, retinoic acid.
Few noteworthy facts were unveiled by experimentation with rats. The concentration of vitamin A in the testes shares a positive correlation with the basal secretion of testosterone. Increased concentration also elevates the secretion of iron transporting hormone transferin. Few other notable hormones are-
Androgen carriers- androgen binding protein.
Cancer suppressing growth factor- TGF-beta (transforming growth factor)
Carrier of cholesterol to mitochondria for its conversion into steroids- 'steroidogenic acute regulatory protein'
Vitamin A also facilitates in reducing the estrogen production by the testes in males. The experiment also revealed that rats that were suffering from vitamin A deficiency experienced reduced testosterone levels. This experiment gives a compelling proof that vitamin A is essential fro both testosterone production and other related factors.
Another experiment was performed using the guinea pigs. This study corroborates the findings of the experiments that were performed with rats. This study also aimed at relating vitamin A with testosterone levels. The testicular tissue has abundant receptors that associate themselves with vitamin A.
Here in this study the guinea pigs were divided into 3 groups- a control, deficit and normal. The experimental length was for 90 days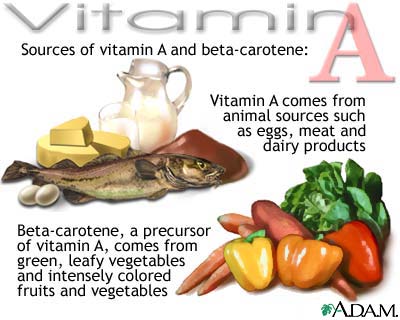 specially in order to achieve the deficit group, after analysis following results were observed-
The binding efficiency of the receptors got reduced along with deprivation of vitamin A.
Severe decrease in the testosterone levels.
This study fortified the fact that vitamin A is a necessary nutrient when it comes to testosterone production.
Apart from the animal studies, a study that comprised twin males from Utah and their dietary intake gave a concrete evidence about the correlation between vitamin A and testosterone.
This human study was comprised of 155 pairs of twins and their dietary intake chart. It is an established fact that diet is related to every happenings within our body, even the hormonal levels and their regulation. Hormonal assays from their blood samples and results of previously prepared, thorough questionnaire gave the following results-
Obesity and increased weight have a negative influence on testosterone levels.
Fat consumption and metabolism are major factors in testosterone production.
Vitamin A consumption influenced the testosterone production significantly.
This study helped in understanding that a proper regular diet is essential in maintaining bodily functions.
Ways to include vitamin A in the diet
Vitamin A is an essential nutrient, but we need an intake of certain foods that are rich in vitamin A. Apart from selecting a vitamin A rich diet we need to maintain a balanced diet to achieve a steady supply of vitamin A in our body. Lots of foods are rich in vitamin A, 10 of them that ranks as the richest sources are –
Carrots– Carrot as we all know is a root vegetable and ranks as one of the most common source of vitamin A. The nutrient facts about carrot states that a half cup of cooked carrot has 671 mg of vitamin A and 27 calories.
Sweet potatoes– This vegetable also falls under the category of root vegetables. These are large, starchy and sweet. Now a medium sized sweet potato consists of 1096 mg of vitamin A. Even the skin is an essential part.
Pumpkins– The fruit of Halloween decoration. This round, smooth and yellow fruit can save someone from damaging their eyes, as a half cup of canned pumpkin has a supply of 973 mg of vitamin A.
Kale or spinach– The favorite food of our cartoon character popeye, but this does not only help popeye to gain power rather it is a rich source of vitamin A. One half cup of these  green leaves will give 573 mg of vitamin A.
Beef Liver–  this common ingredient also serves as a source of vitamin A. Leaner beefs serves the best purpose.
Green leaf or collards– Collards is a common American English term for the loose leaf cultivars. A half cup of collard will give 479 mg of vitamin A.
Cod liver oil- Cod liver oil supplements are well known sources of vitamin and minerals. It comes in both liquid and capsule form, only a tablespoon of this oil contains 14000 IU (international units) of vitamin A.
Turnip Greens– Turnips are a root vegetable, but the greens on its top is also edible and is a rich source of vitamin A.  The greens are not a fresh supply of vitamin A, but also provides vitamin K and C. A mere half cup provides 441mg of vitamin A.
Mangoes– This sweet and juicy fruit is a common sight in our dessert plate. Mangoes are not unique for their supply of vitamin A, it also has a sweet aroma and its own flavor texture, altogether a blend of various nutrients. A single slice of mango supplies 36% of the daily requirement of vitamin A.
Dried apricots– Dried fruits are ideal for snacks. They give a boost of nutrients, energy, minerals and antioxidants. They are rich supply of vitamin A, such that only a cup would provide 94% of our daily requirement.
Side effects
Too much intake of anything will be hazardous, the same goes for vitamin A. Few of its side effects are-
Increase in risk of osteoporosis and bone fracture in elderly people.
Long term dependency on supplements may cause anorexia, nausea, mild fever, vomiting and fatigue.
High dosage via mouth is detrimental for children as they may suffer from diarrhea, headache, excessive vomiting, vision problems and even loss of consciousness.
Worsening of liver diseases.
Patients with lung cancer face serious threats from overdose of vitamin A
Summary
Vitamins are essential, but in small amounts. The fat soluble vitamin, vitamin A is an essential nutrient for beta-carotene, a potential warhead against night blindness.
Despite of its other benefits, it also serves as an indispensable requirement for testosterone production. Though diverse studies with both humans and animals are still ongoing to uncover this correlation and to reap its full potential.
Still, we need caution in supplementing ourselves with vitamin A, otherwise will be receiving the sharp end of the sword.