Arthritis is a disease of the musculo-skeletal system of the human body.
It is characterised by painful and swollen joints, joint stiffness, hard lumps around the affected area and difficulty in moving the joints.
Arthritis is a joint term used to denote over 100 different medical conditions. Hence there is no single cause for the occurrence of the disease.
Various factors could lead to disease progression, some of them being, family history, genetic makeup, obesity, injury, allergy or infection.
At times the damage caused to the joints due to arthritis is irreparable and hence joint-replacement surgeries need to be performed.
In other cases rest, medication and certain precautions could ameliorate the disease symptoms in patients.
Boswellia - Why is it effective in Arthritis?
Arthritis is a painful condition characterised by inflammation, pain, and stiffness in the movable joints of the body. It can be combated with proper medication, a healthy diet, and regular exercise.
Conventionally the NSAIDs and DMARDs are the preferred drug choices for the treatment of this ailment but some alternative treatment options are also available.
One of such alternate medication is Boswellia! Plant extract of Boswellia has been known to be highly effective in treating the symptoms of arthritis.
Boswellia is a branching tree that grows in dry and mountainous regions of Northern Africa, the Middle East, and India. It is well-known in folk medicines for its anti-inflammatory properties. There are about 25 known species of Boswellia.
Out of this Boswellia serrata is well known for its medicinal properties .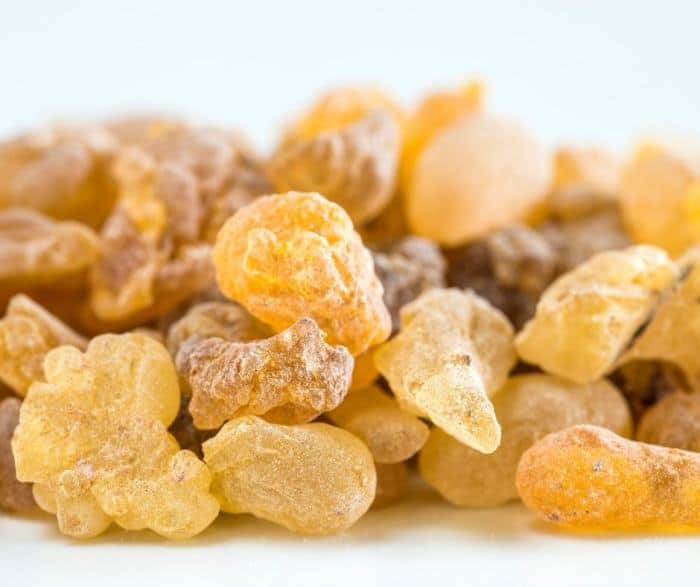 Boswellia has been known to possess anti-inflammatory abilities.
Owing to this, it has been tested for a number of inflammatory conditions like osteoarthritis, rheumatoid arthritis, bursitis, and tendonitis.
In recent times a number of research studies have also established the role of Boswellia extract in the treatment of arthritis.
Additionally, it has been found to show some healing effects in patients with asthma and inflammatory bowel disease.
In fact, it is also being studied in treatments of rare diseases like collagenous colitis (an inflammatory disease of the colon) and malignant glioma (a type of brain tumor). Further research can unravel its role in various other diseases as well.
As of now, the modern study strongly supports its role as an anti-inflammatory, antiarthritic, anti-atherosclerotic (i.e. prevents blockage of arteries), anti-hyperlipidemic (i.e. monitors lipid levels in the blood), analgesic (i.e. relieves pain) and hepatoprotective (i.e. protects the liver)  agent.
The medicinal properties of Boswellia are present in its resin. The plant resin possesses monoterpenes, di- and tri-terpenes, tetracyclic triterpenic acid, and four major pentacyclic triterpenic acids.
These include beta-boswellinic acid, acetyl-beta-boswellinic acid, acetyl-11-keti-beta-boswellinic acid and 11-keto-beto-boswellinic acid.
Studies conducted on animal models prove that these boswellinic acids inhibit the synthesis of pro-inflammatory enzymes like 5-Lipoxygenase. 3-O-acetyl-11-keto-beta-boswellinic acid (AKBA) is, in fact, the most potent inhibitor of 5-Lipoxygenase . But the question arises that why is 5-Lipoxygenase significant in this activity?
Well, this compound, 5-Lipoxygenase, is responsible to trigger a cascade of responses in humans.
These include the promotion of free radical production, calcium dislocation, migration of inflammation-causing cells to the site of inflammation and cell adhesion.
As a result, inflammatory responses are triggered in the body. Hence inhibition of the activity of 5-Lipoxygenase facilitates the reduction in pain and swelling among the patients of arthritis.
In recent times as well, the scientific community is trying to study the role of Boswellia extract in treating patients with arthritis.
Studies conducted on patients with osteoarthritis and rheumatoid arthritis are showing extremely encouraging results.
For instance; during a study conducted in 2003 by a team of researchers, the efficacy, tolerability, and safety of Boswellia serrata extract treatment were tested in patients with osteoarthritis.
It was a randomized, double-blind trial which recruited 30 patients suffering from osteoarthritis of the knee.
These patients were randomly divided into groups where one group was administered Boswellia extract and others received placebo medication for 8-weeks' span. After this time the treatment regimen of the two groups were swapped and continued for an additional 8-weeks.
The disease symptoms of the patients were being closely monitored throughout the course of the study.
Finally, it was found that patients that received Boswellia serrata extract as a treatment, reported a reduction in knee pain and knee swelling.
Again the knee flexion and walking distance increased considerably for these patients as compared to the placebo group.
These results establish the effectiveness of Boswellia extract in treating symptoms of arthritis.
Keeping these results in mind, Dr SP Raychaudhuri, MD, of University of California Davis Medical Centre, prepared an enriched compound from Boswellia extract named 5-Loxin.
He tested the effectiveness of 5-Loxin through a double-blind, placebo-controlled study conducted on 75 patients with mild to moderate osteoarthritis.
During this study, the study subjects (i.e. patients) were randomly divided into three groups of 25 patient each.
Each group received a dosage of 100 mg/day, 125 mg/day of enriched extract and placebo medicine respectively for a span of 90 days.
During this time the pain, physical activity and synovial fluid profile of the patients were monitored at regular intervals.
At the end of this study, it was shown that both the doses of 5-Loxin helps in alleviating the symptoms of pain and discomfort in patients by a significant score as compared to the results for placebo.
Better results were obtained with higher doses of 5-loxin.
This thus proves that in future such enriched herbal extracts of Boswellia might be used as conventional therapy for arthritis.
In fact, few unpublished reports claim that Boswellia extract can help in fighting against the symptoms of Rheumatoid arthritis as well.
Two placebo-controlled studies which employed 81 patients with rheumatoid arthritis claimed a reduction in pain and swelling in the affected regions after administration of oral doses for a span of 3 months.
Another comparative account of proved that Boswellia-extract therapy shows symptomatic improvements in patients with Rheumatoid arthritis as compared to oral gold therapy .
However, the results of this study were found to be sketchy due to lack of details. Thus further research needs to be conducted to obtain confirmed results in this area.
Nevertheless, the effectiveness of Boswellia in having an anti-inflammatory effect in patients with arthritis cannot be falsified as a whole.
In fact, they are known to be much more effective than conventionally used NSAIDs due to its ability to protect against articular damage.
NSAIDs are known to disrupt glycosaminoglycan synthesis which in turn leads to accelerated articular damage in patients.
Boswellinic acid, on the contrary, reduces glycosaminoglycan degradation significantly thus protecting against articular damage.
Thus usage of herbal extracts of Boswellia could be recommended for patients with arthritis.
Boswellia- How can it be taken?
Both oral, as well as topical application of Boswellia extract, has been reported in arthritic patients. Orally it can be consumed as a bark decoction.
Otherwise, various capsules or tablets are available in the market with boswellinic acid as their main ingredient.
As such, there is no recommended dosage for these medicines.
All our knowledge in this respect comes from ancient medicinal scripts and folklore.
Thus the optimum levels of the extract that could be safe yet effective to treat arthritis are unknown.
The amounts of boswellinic acid varies from one product to another and so one must use each with prior consultation with their doctor.
For example; Boswellin® manufactured by Sabinsa Corporation contains 150-250 mg of boswellinic acid in each tablet.
Similarly, Shallaki®, another drug manufactured by Himalaya Drug Company, comprises of 125 mg of Boswellia serrata in each capsule. It is prescribed as an analgesic and anti-inflammatory medicine in case of joint pains.
Rheumatiz-X®, is yet another such drug which contains 20 mg of Shallaki in each capsule and is given to treat osteoarthritis, rheumatism, gout and sciatic pains.
Thus in this way, various different products are available in the market, but each with different levels of boswellinic acid.
Hence it is always advisable to consult your doctor before taking such medications as these might also interact with your other medications.
Boswellia Dosage
There is no recommended dietary amount of Boswellia extract which is known to be effective in treating arthritis.
What we do know from the studies conducted so far is the standard range of this extract that exhibits positive results among patients.
Thus a typical dose of Boswellia ranges between 300 to 400 mg when it contains 37.5% of boswellinic acid.
This dose must be consumed twice or thrice daily for a period of 8-12 weeks. Herbal medicines take some time to show their effects.
Hence patients are advised to continue the oral administration of the Boswellia extract capsules for at least 8 weeks' time in order to experience any improvement in their disease condition.
Again if used in the form of topical ointment, Boswellia extract creams must be applied after a gap of each 4-6 hours in a day.
The use must be continued until the pain subsides.
Precautions while taking Boswellia
Although there are no known precautions available in literature during the use of Boswellia, still advice from your health care provider is extremely vital before consumption of the plant extract orally or in the form of capsules.
Crude herb preparations; though effective; might not be safe for every individual.
Thus specially manufactured extracts known for their anti-inflammatory functions must be preferred.
Again side effects due to the consumption of Boswellia extract are quite rare but they may include skin rashes, diarrhoea, or nausea .
It might also cause allergies or gastro-intestinal troubles. People with immune disorders must not consume such medications without prior consultation with their doctors as they might cause complications.
Also, the effects of Boswellia extract on children, pregnant women, and nursing mothers is not clearly known.
Hence they must avoid taking oral doses of these extracts.
Summary
Arthritis is responsible for causing severe deformity amongst patients if left untreated.
It hinders the patients from performing normal day-to-day activities and is responsible to cause pain and discomfort to the patients.
However with proper treatment and care one can be assured to lead a normal life.
One such treatment known to mankind from the ancient science of Ayurveda is Boswellia plant extract.
The plant resin of Boswellia has long been known for its anti-arthritic functions. Studies prove that it can help reduce pain and swelling in the affected joints of patients with arthritis.
In fact, topical application of this extract could also prove beneficial.
It has no severe side effects in humans and can thus be used without much thought. With proper proof of concept, they can even be a part of the conventional medication for arthritis.