Psoriatic arthritis is a type of inflammatory arthritis that is usually seen in 6 to 42% of people suffering from psoriasis.
Psoriasis is an autoimmune disease associated with skin patches that are red, itchy and scaly.
Pain, swelling or stiffness in the joints are some symptoms of psoriatic arthritis.
The affected joints appear red and are warm when touched due to inflammation.
This condition can affect any part of the body including fingertips and spine and can rand from mild to severe.
Although there is no such cure known for psoriatic arthritis, its symptoms can be controlled and damage to the joints can be prevented.
What is Mahonia?
Mahonia is a genus of about 70 species of evergreen shrubs. It is also known as Oregon grape and is native to the Himalayas, eastern Asia, central America and North America.
It is characterized by pointed prickly leaves, blue round berries and woody stem.
These evergreen plants are well grown in richly acidic and well-drained soil in partial shade.
Its root and rhizome are used to make medicines for various ailments. It can be consumed orally or applied topically to avail its medicinal benefits.
It is traditionally used for the treatment of gastro-oesophageal reflux disease (GERD), stomach ulcers, infections, jaundice, gall bladder diseases, hemorrhage, and fever.
It is applied to the skin as a disinfectant for various different skin disorders like psoriasis.
Mahonia possesses have properties of a disinfectant owing to which it is used to avoid various different infections and cleanse bowels.
The chemicals present in the plant helps to fight against bacterial and fungal infections.
Mahonia has many medicinal applications. Extracts of mahonia have been popularly known to treat inflammatory skin conditions like psoriasis.
Since psoriasis is characterized by the buildup of skin cells, mahonia is known to slow down the overproduction of skin cells in patients with psoriasis and reduce the disease progression.
Topical application of mahonia is known to provide relief from pain in patients suffering from psoriatic arthritis.

5 Benefits of Mahonia in Psoriatic Arthritis
Mahonia's anti-inflammatory effect benefits significantly in psoriatic arthritis.
1. Mahonia improves antioxidant defense in psoriasis
Lipoxygenase is an enzyme whose metabolism plays a role in pathogenesis of psoriasis. Certain alkaloids isolated from Mahonia aquifolium were tested for their ability to inhibit lipoxygenase.
The results reported that the extracted compounds inhibited lipoxygenase activity and had anti-oxidant properties that inhibited degradation of lipids.
Studies show that active constituents present in Mahonia aquifolium give it its anti-oxidant property and thus inhibit degradation of lipids and 5-lipoxygenase enzyme.
What does this mean? Thus extracts obtained from the Mahonia plant may prove to be effective in the treatment in diseases like psoriasis and psoriatic arthritis where pathogenesis of lipoxygenase metabolism is involved.
2. Mahonia has anti-psoriasis activity
Mahonia also possesses anti-proliferative properties.
A study published in the Journal Planta medica in 1995 used extracts obtained from the bark of Mahonia aquifolium and determined its anti-proliferative effects experimentally.
They found that the extract inhibited the growth of kerationocytes.
Berberine is one of the main alkaloids found in Mahonia. Berberine inhibited cell growth along with the activity of other alkaloids like oxyacanthine and berbamine.
A study evaluated three clinical trials and reported the clinical experience of patients suffering from psoriasis on treatment with a species of Mahonia.
The results indicated improvement in psoriasis after a week.
The affected area that was treated with a topical application of Mahonia aquifolium was better than the area where the vehicle cream was applied.
The study concluded that mahonia is safe and effective in patients suffering from mild to moderate psoriatic conditions.
What does this mean? Mahonia extracts can prove to be beneficial in curing skin related diseases caused by microbial infections like psoriasis and psoriatic arthritis due to its anti-microbial activity. Its anti-proliferative activity will prevent buildup of cells which is one of the causes seen in psoriasis and psoriatic arthritis.
3. It exerts anti-inflammatory and pain relieving properties in arthritis
An experimental study conducted on mice was published in the Journal of Ethnopharmacology in 2009 and aimed to determine analgesic and anti-inflammatory activities of ethanol root extract of Mahonia oiwakensis, a species of the Mahonia plant.
Results of the study suggest that the roots produced anti-inflammatory and analgesic effects in mice.
The extracts derived from the mahonia species can be used as pharmacological agents for the treatment of inflammatory disorders.
It can help in relieving pain in psoriatic arthritis patients.
What does this mean? Mahonia extracts show anti-inflammatory properties and pain relieving properties that can be utilized for the treatment of psoriatic arthritis as pharmacological agents. Mahonia is capable of reducing inflammation in joints affected by psoriatic arthritis on topical application. Its safety and effectiveness have been proved experimentally.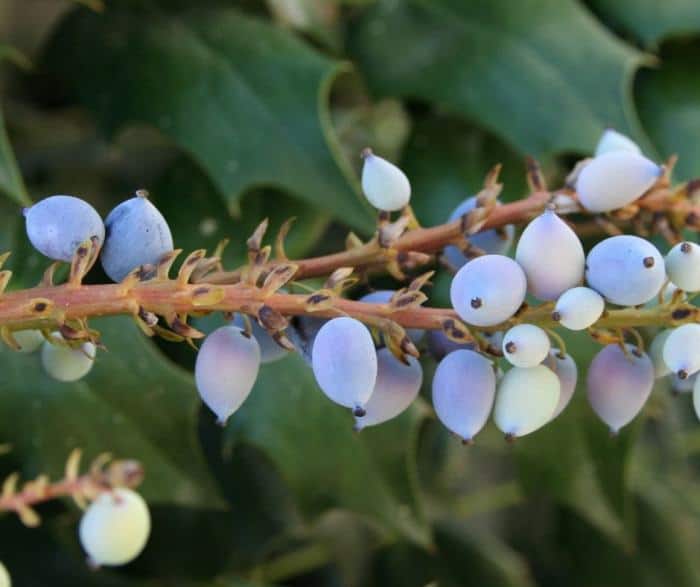 4. It regulates the immune response in arthritis
Conditions associated with psoriasis are due to the overproduction of skin cells. Psoriatic arthritis is an auto-immune disease.
A study was conducted by Augustin et al. in 1999 to examine the effects of topical application of Mahonia aquifolium on the expression of skin cells.
It was observed that Mahonia was efficient in controlling immune mechanisms and hyperproliferation of keratinocytes in psoriasis.
Experimental studies were conducted to determine the effect of extracts obtained from Mahonia aquifolium on the immune system.
The study indicated that crude extracts and alkaloid fractions from a species of Mahonia inhibited the production of Interleukin-8, these are factors that activate the immune system.
What does this mean? Extracts from Mahonia aquifolium can prove to be beneficial in treating auto-immune diseases. Psoriatic arthritis is an auto-immune condition, usage of Mahonia will suppress the over activity of the immune system thus preventing progression of the disease.
5.It has anti-microbial activity
Crude extracts from the bark of Mahonia were tested for their anti-microbial activity.
The results indicated the positive effect of the use of Mahonia for localized skin and mucosal infection therapy.
An experimental study published in the Journal of Phytotherapy Research in 2003 aimed to determine the antifungal activity of Mahonia aquifolium in the form of stem bark extracts and its components like berebrine, palmatine and jatrorrhizine.
They were tested for their inhibitory activity against dermatophytes and two Candida species of human origin.
Results suggest that the components of Mahonia can be used as anti-fungal agents that have high anti-fungal activity and low host toxicity.
Berbine is a derivative of Mahonia aquifolium and is very well known for its anti-microbial activity.
Animal studies have been conducted to evaluate the anti-microbial activity of Mahonia.
Results of one such study performed on microorganisms revealed that different microorganisms show different anti-microbial activity and have different inhibitory effects.
What does this mean? Mahonia shows anti-microbial and anti-fungal properties that can be used in the formulation of drugs for the treatment of psoriatic arthritis.
How to use Mahonia for psoriasis?
Mahonia extract could be used both orally and topically by the patients with psoriasis.
As oral concoction, Mahonia aquifolium tincture can be prepared or is even available in the market .
But the most common way to use Mahonia is as topical cream. A 10% Mahonia extract cream is available in the market and is named Relieva (Apolla Pharmaceuticals) .
Dosage
Studies show that topical application of a cream containing 10% mahonia is safe and effective in treating mild to moderate psoriasis.
If can be applied 2-3 times daily on the affected area.
However, physical supervision or consulting a dermatologist is required before topical usage as it can have side effects which may vary from person to person.
300-500 mg twice per day of berberine has been suggested for oral intake to improve conditions.
It is best to consult a health practitioner for the appropriate dose.
Precautions
Mahonia extract is considered safe to be used by patients with psoriasis.
However, some precautions that must be considered are as follows:
Though rare but some patients have some adverse reactions like itching and burning sensation after topical application of Mahonia. Thus one must test oneself for allergic reactions before starting treatment with Mahonia extract.
Oregon grape is unsafe for pregnant women especially if taken orally as a chemical found in Mahonia can cross the placenta and harm the fetus.
Mahonia is even unsafe to be taken by newborn babies as it might cause brain damage.
Mahonia interacts with certain medicines like Cyclosporine, lovastatin, clarithromycin. Thus before taking it orally, you must consult your health care provider.
Summary
Herbal therapies provide most of the evidence for the effectiveness of Mahonia in curing psoriatic arthritis.
Since patients suffering from psoriatic arthritis frequently use plant extracts to relieve pain and other symptoms physicians need to be aware of the current evidence concerning the natural products.
Anti-oxidant, anti-inflammatory and anti-proliferative properties of components derived from Mahonia can be used in curing psoriatic arthritis.
Dermatologists should be aware of the benefits and side effects of Mahonia to increase its awareness and potential uses in curing all skin related diseases.
Psoriatic arthritis causes a lot of suffering, pain, and discomfort to the patient. Although it is not curable if can be prevented or controlled.
Mahonia has been found to be an effective alternative to drugs involved in the treatment of this condition.
It can be orally administered or applied topically.
It has been used for the treatment of psoriasis since ages and can effectively be used by patients with psoriatic arthritis without any known chronic side effects.
Save
Save