Quick Answer: Best Bee Pollen Supplement
About This Article
22 brands analyzed for rankings. 29 hours spent in research. 80+ references used for information.
Bee pollen is deemed one of nature's most nourishing foods "superfoods" as it contains nearly all the nutrients required by humans.
One hundred gram of bee pollen contains more protein than a single serving of meat, eggs, fish, and cheese. [1] [2] [3]
Bee pollen is basically a mixture of bee saliva and the pollen that is the male seeds of the flower.
For centuries, bee pollen has been used in many folk medicines for relief of constipation, wound healing for its proposed antioxidant action, and prevent hay fever.[4]
In this article, we discuss the many promising reports of the antioxidant, anti-inflammatory, anti-carcinogenic, antibacterial, anti-fungicidal, anti-atherosclerotic, and immune enhancing potential. [5] [6] [7] [8]
How Does Bee Pollen Work?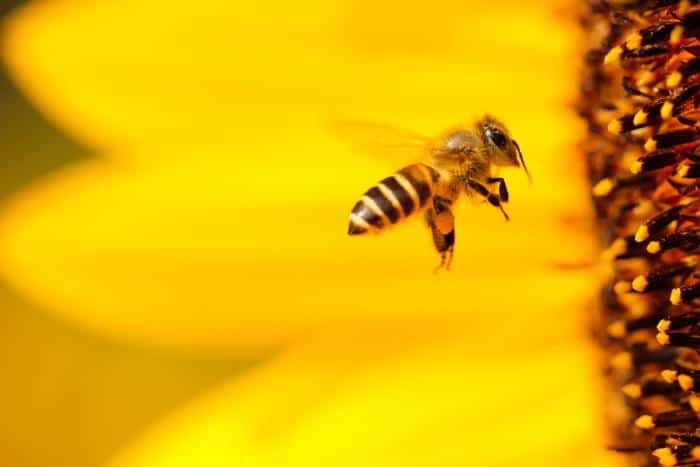 Bee pollen mainly comprises of carbohydrates, proteins and amino acids that help generate energy, repair tissues (wound healing), and support the immune system.
The polyphenols and flavonoids are responsible for most it's antioxidant, anti-inflammatory, and anti-atherosclerotic, and anti-microbial activities.
The hypoglycaemic and hypolipidemic activity of pollen is mainly credited to the unsaturated fatty acids, phospholipids, and phytosterols.
Besides these bees pollen is also a rich source of Vitamins A, B-complex, C and D that can also act as anti-oxidants and immunity enhancing elements.
It also contains macronutrients like calcium, phosphorus, magnesium, sodium, and potassium and micronutrients namely iron, copper, zinc, manganese, silicon, and selenium.[9]
Apart from these components, the bees add some mysterious elements or chemicals of their own.
Scientists believe that these unidentifiable elements may be the reason behind bee pollen's extensive capabilities to work against so many health conditions.
The main difficulty in studying the exact mechanism of bee pollen is due to its own variations resulting from the difference in soil, climatic conditions, plant source, as well as processing conditions.
All these variations make it very difficult to study their relevant physiological and botanical characterization. [10]
Comparison of Top Bee Supplements in the Market Today
Here is a quick comparison on the top bee pollen supplements - capsules and granules in the market today -
Product
Content
USP
Price

YS Eco Bee Pollen Whole Granulars

Best in Granules

10 Oz
Rich in Phytonutrients

YS Eco Propolis-Raw Unprocessed

Best in Capsules

90 Capsules
100-percent pure, potent and organic

GREENBOW Organic Bee Pollen

Best in Organic

11 Oz
Dried at Low Temperatures for Better Preservation

Stakich BEE POLLEN GRANULES

32 Oz
Powerhouse Of Vitamins

Fresh Bee Pollen Whole Granules

16 Oz
Naturally chelated minerals and Amino acids

Bulksupplements Bee Pollen

35.27 Oz
Lab tested for Verification & Guaranteed Purity

Stakich BEE POLLEN GRANULES

80 Oz
Premium quality with absolutely NO additives

Now Bee Pollen

No products found.

100 Capsules
Bee Pollen is natural and highly nutritious

Bee Pollen Granules - 1.1 lbs

1.1 lbs
Never blended with Offshore Pollens

Swanson Bee Propolis

60 Capsules
Respiratory health properties
Reviews of the Best Bee Pollens
Here are quick reviews of the bee pollen supplements with key specs, pros / cons and other information to help you decide -
Ys Eco Bee Farm Pollen Granules 10 (Oz) Review
This bee pollen granule is raw, organic and 100-percent pure, containing no additives, fillers, or preservatives.
It packs a huge punch in the nutrient department – rich in phytonutrients like vitamins, trace minerals, vitamins, flavonoids, and essential amino acids.
This nutritious supplement can be of immense benefits to the body, as it helps boost the immune system, increases stamina, and supports muscle recovery.
It comes in a resealable pouch to maintain the freshness.
Pros and Cons
Dissolves well
Contains all-natural ingredients
Good price
Tolerable taste
It has to be kept in a fridge to maintain flavor
YS Eco Bee Farm Propolis 1000mg Capsules Review
Founded in 1995, Y.S Eco bee farm is a pioneer brand in the beekeeping industry.
The family-owned company has a wide range of natural products, which include organic honey, royal jelly, etc.
Coming from a trusted brand, Propolis bee pollen capsule does not disappoint.
One vegetarian capsule delivers 500mg of raw, unprocessed bee pollen, which is very rich in nutrients like minerals, vitamins, proteins, fatty acid, etc.
It is 100-percent pure, potent and organic, containing no gluten, fillers, artificial colors or additives.
It improves stamina, relieves seasonal allergies, minimizes fatigue and accelerates muscle recovery, among other benefits.
A Quick Preview of Details about Nutrition and Supplements of the Product
Pros and Cons
Easy to take
Contains natural ingredients – no allergens
Very affordable
Raw and effective
Bad taste and smell
Wrong labeling – 500mg, not 1000mg as claimed
Stakich Bee Pollen Granules Review
Stakich is a family-owned and operated brand that was set up in 1925. The company has a line of premium-quality products, including herbal extracts, superfoods, green powders, among others.
Stakich brings you bee pollen supplement in its purest, natural form. This raw granule is a rich source of minerals, vitamins (B12 and E), essential amino acids and enzymes.
It is 100% organic, additive-free and unprocessed – not heated or dried.
A favorite among athletes and body-builders, this supplement aids muscle recovery, improves stamina and helps take the energy levels a step beyond.
It also boosts the immune system, relieves seasonal allergy and detoxifies the body.
Its sweet and floral taste makes it an excellent addition to smoothies, cereals or your everyday foods.
A Quick Preview of Details about Nutrition and Supplements of the Product
Pros and Cons
Contains no gluten or additives
Dissolves well
Tastes great
Affordable price
A customer complained that the container has a plastic smell to it.
Bulk Supplements Bee Pollen Powder Review
Based in Henderson, Nevada, Bulk Supplements is a major producer and distributor of a wide range of natural supplements.
They have a growing portfolio of over 400 affordable products used in many countries around the world.
This clean, pure powder from Bulk Supplements is one of the best bee pollen supplements around.
It has an abundance of essential nutrients such as proteins, vitamins, minerals, enzymes, etc. needed by the body.
Bee pollen boosts energy, aids post-exercise recovery, enhances the immune system and provides allergy relief.
The supplement is tested in the lab for purity and quality and packed in a resealable bag to maintain the freshness and keep out contaminants like moisture, dirt, and so on.
A Quick Preview of Details about Nutrition and Supplements of the Product
Pros and Cons
Easy to mix
It is organic
Good price
Subtle sweet taste
The packaging could be better
Swanson Bee Pollen 400 capsules Review
Swanson is a natural supplement brand launched in 1969 in Fargo, North Dakota. The company offers pure, potent products that can help you achieve better vitality and live a healthier lifestyle.
This is a dietary supplement you can trust for faster recovery time, better stamina and a burst of healthy energy.
It comes in easy-to-take capsules, each offering 400 milligrams of bee pollen.
Considered nature's most complete health superfood, bee pollen has a wide array of must-have nutrients like vitamins (Riboflavin and folic acid), minerals, enzymes, and amino acids.
The supplement is made in FDA approved facilities in the United States.
Pros and Cons
Easy to swallow
Contains all-natural ingredients
Reasonably priced
It boosts energy
NOW Bee Pollen Capsules Review
No products found.
NOW is an industry doyen in the health supplement world with more than 1400 premium-quality products.
The company was set up in 1968 and has state-of-the-art manufacturing facilities in the United States and Canada.
Get a healthy dose of nature's most complete superfood with NOW bee pollen capsule.
It is a good natural source of nutrients, such as minerals, vitamins, proteins, and digestive enzymes.
A single capsule delivers 500mg of gluten-and-additive free bee pollen.
This supplement can help reduce fatigue, relieve seasonal allergies, support the immune system, and aid muscle recovery after workouts.
A Quick Preview of Details about Nutrition and Supplements of the Product
Pros and Cons
Easy to take
Free of gluten, soy, wheat, and other potential allergens
Good price
Provides allergy relief
Some customers complained that it doesn't work for them
Dutch'sman Gold Pure Pollen Granules Review
Dutch'sman Gold is no stranger in the beekeeping world. The family-owned company was established in 1981 and has about 1500 beehives, each with approximately 50000 bee workers during the summer.
This premium-quality bee pollen granule is one of the best there is. It is reasonably sourced in the US and never blended with fillers or additives.
The nutritional value of this supplement is off the charts, containing trace minerals, amino acids, vitamins, and enzymes.
As for the benefits, it increases energy levels, boosts the immune system, aids muscle recovery, relieves seasonal allergies and improves stamina.
It comes in a resealable pouch to maintain the freshness while keeping out moisture and possible contaminants.
A Quick Preview of Details about Nutrition of the Product
Pros and Cons
Additive-free
Blends in well
Good packaging
Competitively priced
YS Eco Bee Farm Bee Pollen Granules Review
This is another well-sourced bee pollen supplement from Y.S Bee Farm. This premium-quality granule is raw, pure and organic, devoid of fillers, additives or artificial colors.
It has a high concentration of phytonutrients, including protein, minerals, vitamins, essential fatty acids, flavonoids, and so on.
The nutritious supplement can benefit the body in several ways, from aiding recovery to boosting the immune system and energy.
It is packed in a no-frills resealable bag to keep it fresh.
A Quick Preview of Details about Nutrition and Supplements of the Product
Pros and Cons
It is organic
Mixes well
Has a good taste and texture
Great price
It needs to be refrigerated (to prevent rancidity)
Few customers complained that the bottle is half-filled
Stakich Bee Pollen Granules Review
Also from Stakich, this bee pollen granule is raw, 100% pure and unprocessed. It has a high level of plant nutrients such as minerals, essential amino acids, and vitamins (B12 and E).
This supplement is very good for improving stamina, increasing energy and boosting the immune system.
It also helps with body detoxification and aids muscle recovery after rigorous exercise.
With a sweet and floral taste, this granule makes a great nutritious addition to cereals, smoothies or your baking recipes.
A Quick Preview of Details about Nutrition and Supplements of the Product
Pros and Cons
Easy to blend
It is organic
It is affordable
Check Reviews & Offers on Amazon
Greenbow Organic Bee Pollen Review
Greenbow has been in the beekeeping business for more than 40 years. The US-based company is committed to bringing you only the finest organic bee products at competitive prices.
This is one of the best bee pollen supplements on the market. It is raw, unprocessed and certified organic, devoid of GMOs, gluten, preservatives, artificial colors or flavors.
This superfood is a rich natural source of nutrients such as minerals, vitamins, amino acids, and enzymes.
Greenbow bee pollen helps boost energy levels, detoxifies the body, supports the immune system while speeding up muscle recovery after rigorous exercise.
It can be added to smoothies, cereals or recipes.
A Quick Preview of Details about Nutrition and Supplements of the Product
Pros and Cons
Certified organic
Mixes easily
Good price
Has a good taste
May cause an allergic reaction in some people
Health Benefits of Bee Pollen
Here we discuss the key health benefits of bee pollen. Some of these are well established while a few others need more research to be proved without doubt.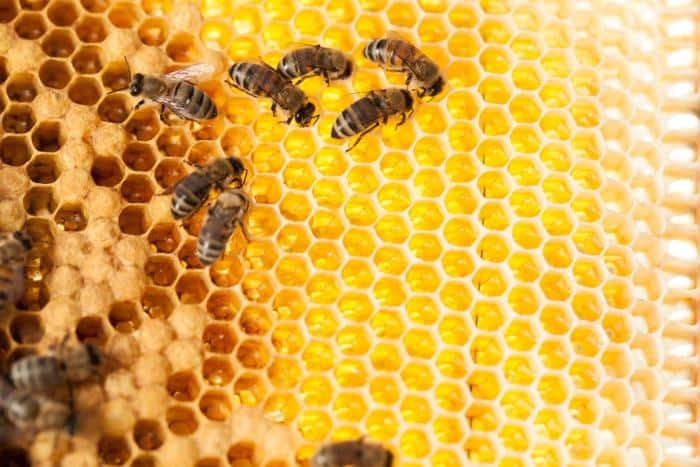 1. Bee pollen is an excellent source of nutrition
Bee pollen contains more than 250 biological active substances. Its main components are proteins 30-40% and carbohydrates 45-55% the two ingredients essential for energy and tissue generation. Apart from these, it contains many micro and macronutrients responsible for its antioxidant, anti-inflammatory, and other health benefits.
Confidence level: High
Due to its rich and vast composition, it is considered as a "nature's complete food".
The bee pollen granules consist of carbohydrates 30%-40%, proteins 35% -45%, water 5-10%, lipids 5%-10%, and micro- and macro-nutrients 5-10% by weight.
The micro- and macro-nutrients includes vitamins, minerals, and some unidentifiable elements. [11] [12] [13]
The composition, as well as the contents of each and every bee pollen grain, differs depending on the source plant, location, and climate it is collected or harvested.
There are studies showing that bee pollen collected from different plant source differs in their protein and carbohydrate contents. [14] [15]
Another study showing difference in protein contents depending on the season it was collected. [16]
There are few studies that showed the method of extraction also affects the contents of phenols and flavonoids that indirectly affect the anti-oxidant property. [17] [18]
2. Bee pollen has high antioxidant contents
Bee pollen contains a wide variety of antioxidants, which may help protect the cells from damage caused by free radicals and other toxicity that are linked to chronic diseases, like cancer, neurotoxicity, and diabetes.
Confidence Level: High
Most of the antioxidant property of pollen is directly related to its phenols and flavonoids concentration. As mentioned above depending on the concentration of phenols and flavonoids the anti-oxidant property also changes accordingly. [19] [20] [21] [22]
In a study conducted using rats fed on bee bread containing bee pollen and honey showed antioxidant activity against aluminium chloride. [23]
Bee pollen's antioxidant content also depends on the bee species, plant origin, geographic location, and season as well as a type of extraction solutions. [24]
3. Bee pollen has cardioprotective properties by lowering the cholesterol
Bee pollen shows a significant cardioprotective property due to its cholesterol-lowering and lipid oxidation via its anti-oxidant activity thus reducing heart disease risk factors.
Confidence level: Medium
There are several test-tube and animal studies demonstrate that the bee pollen can help lower the bad lipids and cholesterol in serum. [25] [26] [27]
In a study conducted in patients with clogged arteries, bee pollen supplements helped clear the arteries. [28]
Several animal studies showed that the anti-oxidant property of bee pollen helps inhibit lipid oxidation thus acting as an anti-atherosclerotic. [29] [30] [31] [32]
Other studies have shown that bee pollen inhibits angiotensin-1 enzyme too. Angiotensin is a hormone that causes narrowing of blood vessels and an increase in blood pressure. This can help lower the chances of developing atherosclerosis or any other cardiovascular diseases. [33] [34]
4. Bee pollen is rich in anti-inflammatory compounds
Scientists are directly comparing bee pollen's anti-inflammatory effects to several non-steroidal anti-inflammatory drugs, such as phenyl butanone, indomethacin, analgin, and naproxen. [35] [36]
Bee pollen is believed to lower the production of inflammatory omega-6 fatty acid. [37] [38]
Confidence level: High
Phenols and flavonoids contents found in bee pollen plays a key role in inhibiting stimulate the production of inflammatory hormones such as tumour necrosis factor (TNF). [39] [40]
In a study, bee pollen extract showed a potent anti-inflammatory activity by inhibiting both the Nitric oxide (NO) and COX-2 enzyme. Both NO and COX-2 enzyme are responsible for inflammatory response in certain oedema. [41]
5. May help boost liver functions
Animal studies suggest that bee pollen may help boost liver function, enhance the liver's detoxifying abilities and protect it from harmful substances. Bee pollen also helps boost liver healing as well. [42] However, more high-quality human studies are needed.
Confidence level: Medium
In a study conducted in older animal bee pollen helped removed more waste products, such as malondialdehyde and urea, from the blood. [43]
There are several test-tube and animal studies that demonstrate how the anti-oxidant properties of bee pollen play a key role in protecting the liver against the damage from toxic substances like drug overdoses, oxidative stress, etc. [44] [45] [46] [47]
6. May help in wound healing
The amount of carbohydrates and proteins in bee pollen helps boost the tissue repair and wound healing process. The anti-inflammatory and antioxidant properties also aid in the wound healing process. Its antimicrobial properties also help prevent wound infections thus accelerating the healing process.
Confidence level: Medium
In an animal study, researchers found that bee pollen extract was equally as effective at treating burn wounds as silver sulfadiazine, a regular ointment in burn treatment, and caused much fewer side effects. [53]
Another animal study showed that applying an ointment containing bee pollen onto a burn significantly accelerated the healing process as compared to the conventional medicines. [54] [55]
7. Anti-bacterial properties
Animal and test-tube studies show that Bee pollen may boost the immune system, thus helps in avoiding illnesses and unwanted allergic reactions.  The antioxidant and anti-inflammatory property of bee pollen may help reduce the severity and onset of allergies and kill several harmful bacteria.
Confidence level: Low
In a broad spectrum study against both gram-negative and positive bacteria, bee pollen showed potent anti-bacterial effects against E. coli, Salmonella, Pseudomonas aeruginosa, staphylococci, etc. [48] [49]
In another study using the pollen collected from the dried sunflowers showed potent bactericidal effects against different species of bacteria as compared to the bee pollen extracts from frozen sunflower.[50]
Similarly, freeze-dried sunflower pollen extracts demonstrated the antifungal activity of the against Aspergillus niger whereas, the frozen bee pollen extract was more potent against Aspergillus ochraceus. [51]
Another study tested the antifungal properties of honeybee products including honey, pollen, propolis, and royal jelly demonstrated that propolis and pollen had the most potent anti-fungal activity as compared to other products. [52]
8. May have anti-cancer properties
Test-tube studies show that bee pollen extracts can inhibit tumour growth and stimulate apoptosis (cell suicide) of cells in the renal, lung, liver, prostate, colon cancer, and leukaemia. Some studies claim that bee pollen can help prevent metastasis too. [56] [57] [58] [59]
Confidence level: Low
Bee pollen showed anti-oestrogen properties, which could lower the risk of breast and uterine cancers during menopause. [60] [61]
In another study bee pollen supplementation reduced the chromosome damage induced by the cancer drugs, thus supporting their use as safe future chemoprotective/chemopreventive agents. [62] [63] [64]
Dosage
A small dosage of 7-9 grams of pollen taken three-four times a day before or along with food for adults and one to two times a day in children is considered a safe dosage limit.
The time of treatment can vary between 3-5 months a year. [65]
For most of the studies, small doses of pollen were used together with other medications or supplements.
It is very important to keep in mind that natural products are not always necessarily safe. Always consult a professional for correct dosage suggestion.
Safety Precautions
Bee pollen although deemed fairly safe for most people when taken by mouth for up to 30 days. Those who are allergic to pollen can develop a serious allergic reaction to bee pollen supplements. [66] [67]
There is one recorded incidence of a patient developing hypereosinophilia (increased number of white blood cells) after consuming bee pollen for 6 weeks. [68]
On a separate occasion, a patient suffered from an anaphylactic reaction after ingestion of a small quantity of bee pollen. [69]
Apart from these reports, there have been some incidences of itching, swelling shortness of breath, and light-headedness.
Taking bee pollen is possibly unsafe during pregnancy due to its anti-oestrogenic properties. There is also some concern that bee pollen might stimulate the uterus and threaten the pregnancy.
Due to lack of research, it is advisable to avoid using bee pollen during breastfeeding and in children.
FAQs
Does Bee Pollen Increase Oestrogen Levels?
Research shows that bee pollen exhibits anti-estrogenic properties meaning it reduces or blocks the oestrogen's biological activity.
One of the flavonoids found in bee pollen named Chrysin is an aromatase inhibitor. Aromatase is an enzyme that helps convert testosterone into oestrogen. Inhibiting this enzyme can lead to higher levels of testosterone and lower levels of oestrogen in women.[70]
Does Bee Pollen Help with Hot Flashes?
It is known that hormone replacement therapy can increase the risk of breast cancer in menopausal women.
Two separate studies using bee-pollen and honey showed a significant improvement in menopausal symptoms including hot flushes. [71] [72]
Thus proving a safe and efficient remedy for relieving hot flashes.
 Is Bee Pollen Good for Your Face?
Bee pollen contains Vitamin A known as "retinol" in the beauty industry to improve skin texture and shrinking of wrinkles.
Also, Vitamin C is known for its skin brightening and lightening properties. Vitamin E can help reduce the appearance of scars.
Besides these, the flavonoids and phytosterols help promote cell regeneration thus improving the skin's appearance, tone, and complexion.
Bee pollen's natural antibiotics help suppress the acne by killing acne-causing germs. The anti-inflammatory and anti-oxidants along with its tissue repairing properties make acne-prone skin clearer and blemish-free.               
Does Bee Pollen Need to be Refrigerated?
Owing to its organic natural bio-composition it is advisable to store bee pollens in a dry and cool place like the refrigerator. Refrigerated bee pollen may last longer, and may also help retain its potency. If left outside in regular room temperature, bee pollen granules will slowly start to ferment and rot.
Does Bee Pollen help with Hair Growth?
Bee pollen contains the amino acid L‐Cysteine, which contains sulphur that helps reverse hair loss and can strengthen the hair roots and strand. Also, it contains vitamin A and E, the two vitamins that are deemed vital for hair health.
In the end..
Bee pollen is known to provide several health benefits. Bee pollen is available as granules and capsules for taking. Here is the list of best bee pollen supplements again for you. Click on the links to check detailed specs, reviews and offers on Amazon  -