Arthritis stands for 'joint inflammation' and is a highly prevalent disease worldwide.
It can affect people of any age, gender or status.
Numerous types of arthritis are known medically, but the most common ones include Osteoarthritis, rheumatoid arthritis, gout, and fibromyalgia.
Its symptoms include pain, stiffness, and inflammation in joints, especially the knee, hip, or fingers.
In chronic cases, it might cause a major deformity in the patients.
It might occur due to various factor like – age, gender (more common in women), family history, obesity, joint injury, microbial infection or lifestyle.
There is no known cure for the disease.
The available medication only helps in relieving the symptoms like pain and inflammation.
The Wonder fruit "Cherry"!
"In all things of nature, there is something of the marvellous"
This brainy quote from Aristotle sums up the true meaning of the existence of life on the planet. Nature has the answers to the deepest agonies of the human mind and body.
This fact was known by our ancestors and now is being re-established through the help of science.
One such miracle fruit that nature has gifted us is – Cherry!
The brightly coloured, sweet and delicious fruit that originated in Europe and West Asia; but has now found abode in most of the parts of the world; has been known to have numerous health benefits.
It has been found to be having highly effective antioxidant and anti-inflammatory properties.
As a result, it relieves pain and inflammation during gout and osteoarthritis.
Additionally, there is scientific evidence that proves that it reduces the risk of cardiovascular diseases, acts as an anti-cancer drug, and helps induce sleep in patients suffering from insomnia.
Thus inclusion of cherry in the diet helps fight against numerous health problems in a natural yet effective manner.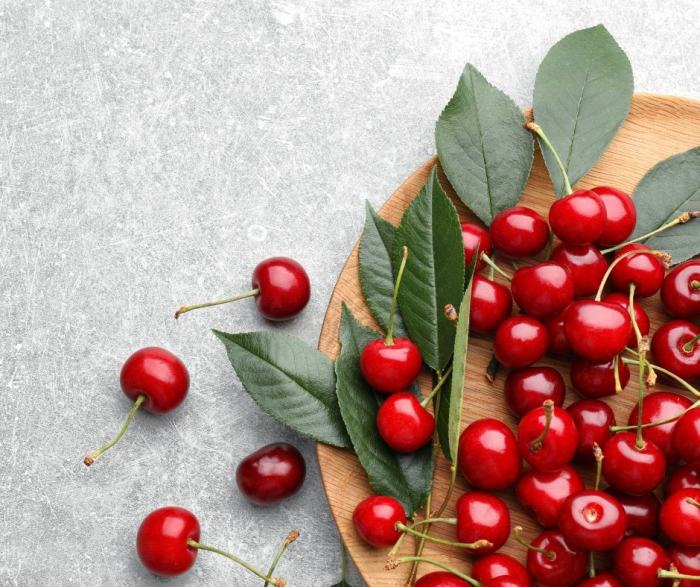 Cherries for Arthritis- How it works?
Cherries are a rich source of Vitamin C, carotenoids, melatonin, potassium, quercetin, hydroxyl-cinnamates, fibre and anthocyanins.
The melatonin present in red cherries helps to fight against toxins in the body.
Amongst all the naturally available fruits, cherry has the highest level of anthocyanins and this accounts for the effective anti-oxidative ability of the fruit.
The cyanidins present in cherry fruit possesses anti-inflammatory abilities which helps relieve pain and swelling in case of gout.
It has been revealed through research that chemicals found in tart cherries are better in relieving pain than the commonly used analgesics like Ibuprofen and Aspirin.
The tart cherry juice is also known to reduce urate levels in the body. All these factors make it a highly preferred fruit for patients suffering from arthritis.
Now the question arises that how does the anti-oxidative ability of cherry fruit help in treating arthritis?
The answer lies in the disease physiology of gout and osteoarthritis.
Gout is caused due to the deposition of uric acid in different parts of the body due to high plasma uric acid.
Again osteoarthritis is a degenerative disease which is caused due to various mechanical and molecular events.
The exact cause for the disease is still not determined but at the molecular level, it has been found that cartilage degeneration at joints is caused due to the increased level of oxidative damage from free radicals that are produced in the body.
Anthocyanins present in the cherry fruit have the ability to scavenge these free radicals and thus reduce the level of serum urate and free radicals in the body.
As a result, it helps in ameliorating the pain and inflammation caused during arthritis.
Tart cherry varieties like; Montmorency and Balaton have been studied more extensively and have been found to show better results in lowering symptoms of arthritis like pain and inflammation than the sweet variety (Bing, Lambert, Reinier). T
he probable reason could be that tart cherries have a higher levels of phenolics and anthocyanins than the sweet cherry varieties.
Most of the healing properties of cherries have been attributed to the different anthocyanins found in the fruit.
Hence it is not hard to believe that tart variety, which has greater amounts of anthocyanins shows better healing powers.
However, it is important to add here that both varieties contain healing powers and can help in alleviating the symptoms of arthritis in patients.
A number of scientific studies have been conducted on cherries which prove that this natural fruit can help the patients of arthritis and make their lives easier.
One of the first study conducted to learn about the health benefits of cherry was conducted in 2006 by a group of investigators.
This study was designed to study the anti-oxidative and anti-inflammatory effects of anthocyanins derived from the cherry on arthritic rats.
In this study, arthritis was induced artificially to rats and then varying amounts (40, 20, and 10 mg/kg) of cherry derived anthocyanins were administered for a span of 28 days.
After this period the level of anti-inflammatory and anti-oxidative markers was tested in the blood of these rats.
At the end of this experiment it was proven that anthocyanins present in Cherry possess anti-inflammatory and anti-oxidative properties.
Best results were obtained from the higher anthocyanin concentrations, i.e., 40 mg/kg.
This study also demonstrated the ability of these anthocyanins in lowering the levels of Tumour Necrotic Factor (TNF), a major determinant of cancer in humans, in the blood of the treated rats.
Thus it showed that along with anti-inflammatory, cherry extract possesses the ability to reduce the risk of cancer as well.
Thereafter more research to explore the medicinal effects of cherry was conducted which proved the role of cherry in fighting against various life-threatening diseases.
One such study that proved the role of cherry intake in treating gout was conducted in 2012 by scientists at Boston University.
This study aimed to find the link between cherry intake and gout attacks among patients. 633 patients were recruited for this study and were followed up for a year.
During this span, the participants were asked to answer a questionnaire about their daily diet, medication, onset of gout attacks, their signs and symptoms and exposure to potential risk factors.
The intake of the cherry before or during the attacks was also monitored closely.
At the end of this crossover study, it was found that cherry intake over a two-day period lowered the risk of gout attack to about 35% among the patients as compared to those with no intake.
It resulted in reduced flare and pain due to gout. Again, administration of cherry along with allopurinol, drug prescribed for a gout attack, lowered the risk by 75 %.
The results persisted among all the group of individuals despite their sex, obesity, purine intake, status, diuretic use, alcohol use or use of anti-gout medicine.
These results were highly encouraging and suggested that use of cherry on a daily basis can help improve the symptoms of gout amongst all patients and can also reduce the risk of recurrent attacks.
But the role of cherry is not just limited to gout. It has been found to show soothing effects in patients of osteoarthritis as well.
A 2013 study done by researchers at the University of Pennsylvania, tested the efficacy of tart cherry juice in alleviating the symptoms of knee osteoarthritis in patients.
In this study 68 non-diabetic, osteoarthritic patients were tested for a period of 6 weeks.
During the span of the experiment, patients were randomly chosen to be administered two 8 ounce bottles of Cherry or placebo juice daily.
The WOMAC (Western Ontario McMaster Osteoarthritis Index) scores and walking times were recorded at regular intervals.
Also, the level of urates, creatinine, and C-proteins were noted for each patient before and after the course of the experiment.
After the conclusion of this study, it was found that cherry juice resulted in lowering the level of high sensitivity C-reactive protein (hsCRP) in the blood plasma.
This lowering of hsCRP was found to be associated with improved walking times and reduced pain and inflammation due to arthritis in the patients.
Hence it was concluded that cherry juice can help alleviate symptoms of mild to moderate osteoarthritis by lowering the levels of plasma hsCRP.
In fact studies suggest that people that drink tart cherry juice while sports training for long runs report significantly lower pain after the strenuous exercise.
Usually, it is believed that anti-oxidants must not be taken in the form of supplements as they might show adverse effects in the body.
Hence it is usually advised to take consume anti-oxidant containing foods naturally.
However, this is not completely true for cherries.[/alert]
As a matter of fact, cherry pills are also available in the market and can be consumed to attain the same effects like the cherry juice.
A pilot study conducted at Baylor Research Institute, Dallas, Texas studied the role of cherry capsules in fighting the symptoms of arthritis.
20 patients were enrolled for this study and more than half of the patients showed improvement in pain and joint function after being administered a cherry capsule daily for a span of 8 weeks.
This study concluded that cherry can be consumed in any form naturally or artificially to enjoy its health benefits.
However further research needs to be conducted to get a better picture.
Till then let us stick to the tastier and healthier option of consuming a handful of ripe cherries daily!
How to include cherries it in the diet?
A lot of studies has been done on cherries. It has been found that the medicinal qualities of cherry are attributed to the anthocyanins present in its pulp and fruit.
Hence consumption of the whole fruit is the best method of inclusion of this fruit in the diet.
However scientific evidence proves that tart cherry juice or consumption of cherry extracts also show similar effects as the whole fruit.
In fact, now cherry capsules are also available for medicinal use.
Each capsule has been found to contain 100 mg of anthocyanins found in cherry 9. Thus inclusion of any of these forms could show positive results.
For best results, it is recommended to eat tart cherries which have been grown organically. Usually, due to high amounts of pesticides in natural cherry, its health benefits are lost.
Thus care must be taken to purchase the best organically grown fruit from the market.
Cherries Dosage
Not much has been spoken about the dosage of cherries in the literature.
Basically, due to its natural origin, it has not been found to cause any major health damage among humans.
However, it is really high in calories.
One cup of cherries contains 74 calories of energy. Thus it is recommended to have just one serving of cherries daily to get the best results.
As it is, it has been found that intake of anthocyanins at very high concentration does not show increased anti-oxidative or anti-inflammatory activity.
Thus keeping the intake moderate would be wise.
Precautions
Although cherries do not show many health risks still a small percentage of the population is allergic to the fruit.
Hence in case of allergies, intake of the fruit is strictly prohibited.
Again due to lack of any evidence in the literature, it is advisable for pregnant and breastfeeding women to consume cherry supplements to relieve from pain or inflammation.
Under such circumstances, the use of natural fruit should be preferred.
Cherry pits must not be chewed while consuming cherry fruit.
According to a report published in "Science and Nature", cherry leaves and cherry pits are responsible for the release of prussic acid which is an important component of hydrogen cyanide and can thus be poisonous.
However the amount of cyanide is small and the presence of toxins extremely rare in cherry pits, but it is advisable to take precautions to avoid any poisoning or ill effects.
Summary
Arthritis is a debilitating disease which has results in serious effects in the patients.
The regular drugs administered to treat the disease show many side effects.
Cherry, on the other hand, is a scientifically proven remedy to fight against the symptoms of this disease.
Anthocyanins present in cherry fruit have been found to have anti-oxidative and anti-inflammatory roles in alleviating the symptoms of pain and inflammation among patients of osteoarthritis.
Also, it relieves the patients from the gout flares and recurrent attacks. A handful of cherries are the best friends for patients of arthritis.
So next time you visit your market, don't forget to get the ripe, red cherries. They can do wonder!