Lavenders are flowers that have been used traditionally as therapeutic agents, by the Romans and Greeks.
The essential oil extracted from these flowers and their heads and foliage, claim to have numerous health benefits. [1]
Taxonomically, these flowers belong to the Labiatae family, consisting of four main species belonging to the genus Lavandula.
The lavender essential oil has been used popularly in the USA and Europe, as alternatives for medical treatments, for personal hygiene and in cosmetic products.
It has phytoconstituents like linalool and linalyl acetate that impart to it most of its medical properties and benefits.
Research has proven that lavender oil is a stress reliever, antidepressant, mood enhancer, and an anxiolytic agent. The oil is even used as an analgesic for menstrual cramps.
It is used to induce sleep in patients suffering from insomnia. In fact, lavender-scented pillows are a rage in the hotel and linen industry. [2]
The oil is also used to fasten wound healing, burns and cuts, and is also an effective antimicrobial agent, thus even used in bandages.
Because of its antioxidant and neuroprotective activities, it can be given to patients suffering from Alzheimer's. [3]
It also reduces the heart rate, heart rate variability and blood pressure in hypertensive patients.
Use of lavender oil is possibly safe but is recommended against, by pregnant women, breastfeeding mothers, and boys who have not reached puberty.
People with sensitive skin must avoid its use, as the oil may trigger contact dermatitis. [4]
Best Lavender Essential Oil Reviewed
Pharmacology of Lavender Essential Oil
Studies show that lavender oil enhances the activity of the amygdala and hippocampus [5], however, as a general physiological effect in the body, linalool suppresses GABA activity, inducing anxiolytic effects.[6]
Linalool and linalyl acetate increase parasympathetic tone by reduction of serotonin receptor 5HT1A activity and inhibition of voltage-gated calcium channels. [7]
Linalool also acts at the neuromuscular junction and prohibits the release of acetylcholine and disturbs the ion channel activity. [8]
On topical application with massage, linalool and linalyl acetate get absorbed very quickly, leading to a peak in their plasma levels within 19 min, causing central nervous system depression. [9]
Lavender oil has also shown to possess anaesthetic activity owing to its antimuscarinic activity or sodium or calcium channel blockade. [10]
The antispasmodic and hypotensive activities of Lavender are mostly attributed to linalool causing a surge in the intracellular cAMP. [11]
Health Benefits of Lavender Essential oil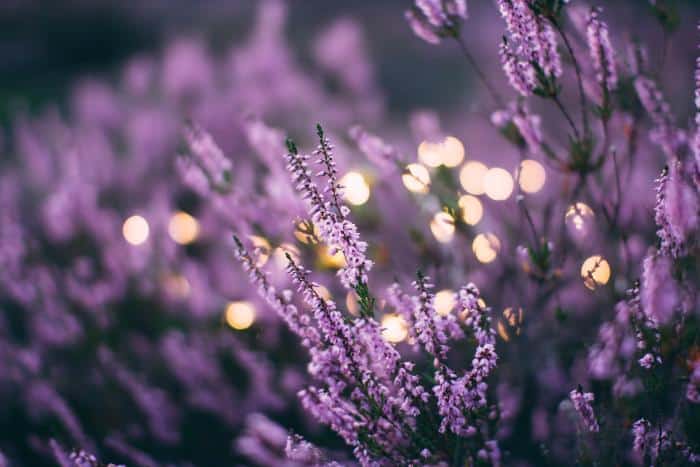 1. Lavender Essential oil is a Proven Anxiolytic
Anxiolytic drugs are used for the treatment of anxiety and related disorders.
Confidence: High
Numerous studies have been carried out to test the anxiolytic property of lavender oil, mostly owing to linalool, which inhibits GABA(A) binding reception, inducing a state of calm in the body.
A 2010 study carried out on 340 dental patients waiting for their appointment in the dental office showed that the aroma of lavender essential oil reduced the anxiety of patients according to the STAI (State-Trait Anxiety Indicator), significantly as compared to those patients not subjected to the aroma of lavender oil.[11]
Another 2009 study carried out on 150 patients, pre-operation, showed that the levels of anxiety were significantly lower than patients who were either subjected to no aromatherapy or jojoba oil aromatherapy. [12]
A study carried out on students appearing for an examination, showed that aromatherapy with lavender oil reduced the anxiety levels in students significantly than those not subjected to it. [13]
Oral consumption of lavender oil preparation Silexan was proven to be a better treatment for generalized anxiety disorder as compared to placebo and common anxiolytic medicine, paroxetine, with lesser adverse effects compared to both. [14]
2. It is an Effective Sedative
Sedatives are substances that induce a state of calm and sleep. Insomnia, a condition suffered by many adults, presents as an inability to sleep, waking up early, waking up frequently while sleeping. [15]
Confidence: High
A 2005 study carried out on patients suffering from mild insomnia showed better sleep patterns as compared to patients subjected to sweet almond oil aromatherapy, indicated by the Pittsburgh Sleep Quality Index (PSQI). [16]
Another study carried out on elderly patients suffering from acute medical disorders like dementia, showed that patients that slept on pillows on which lavender oil was applied had better sleep than patients who were not made to sleep on such pillows. [17]
Another study carried out on women in college suffering from insomnia and depression showed that the length of time to fall asleep, the severity of insomnia and its symptoms, and self-satisfaction with sleep improved considerably after being subjected to 60% and 100% lavender fragrance treatment. [18]
A study carried out on Taiwanese women in the age range of 45-55 years, suffering from insomnia, showed a significant improvement in the quality of sleep, after a 12-week aromatherapy with lavender essential oil. [19]
3. Lavender Essential oil Alleviates Pain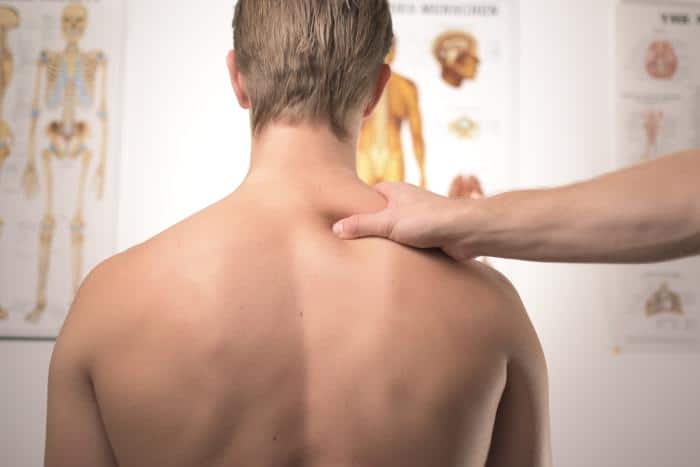 Lavender oil has been used to alleviate pain by simply rubbing the areas affected by the pain with the oil, that shall reduce the inflammation and pain intensity.
Confidence: High
Antinociceptive property of oil extracted from L. angustifolia Mill. was tested using the formalin-induced pain model in rats. [20]
It was concluded from this study that the oil acts via opioid receptors that open potassium channels and block calcium channels, causing antinociception (blocking of pain stimuli).
In a double-blind study carried out on 115 patients suffering from canker sores, lavender oil was applied to the affected areas causing a reduction in pain and improved healing as compared to placebo. [21]
In a study carried out on Turkish students suffering from dysmenorrhea, lavender oil was massaged onto the affected areas, and a significant decrease in pain was observed after 15 minutes. [22]
In a double-blind trial carried out on 47 patients suffering from migraine, 15 minute inhalation of aroma of lavender oil caused a substantial decrease in pain. [23]
A cream containing lavender essential oil amongst peppermint, marjoram and black pepper, was tested in patients suffering from neck pain, which reduced consequently, after application for 4 weeks. [24]
4. It  reduces Heart Rate and Blood Pressure
Rapid heart rate is undesirable and is indicative of an underlying heart disease. High heart rate variability (HRV) is associated with great cardiovascular fitness and stress resilience.
A low HRV is associated with depression, stress and anxiety. [25]
Confidence: High
In a cohort trial carried out for 16 months on 67 women suffering from insomnia, lavender inhalation for 20 minutes, twice weekly, caused a substantial reduction in heart rate and an increase in heart rate variability. [26]
In another double blind study, a significant reduction in heart rate was observed, associated with a relaxed mental state, relative to the placebo aromatherapy with almond oil. [27]
A study aimed at examining the effect of aromatherapy with lavender oil, on coronary circulation in healthy men, showed that it reduced their serum cortisol levels and improved coronary flow velocity reserve (CFVR). [28]
5. It has Antimicrobial Properties
Confidence: High
Phytoconstituents of lavender oil such as alpha-terpineol, terpinen-4-ol and camphor have antibacterial effects; whereas alpha-pinene, beta-pinene and p-cymene are other substances that have antifungal activity. [29],[30]
It has been suggested that lavender essential oils can be used to treat microbial infections resistant to antibiotics. [31]
In vitro activity against MRSA (methicillin-resistant Staphylococcus aureus) and VRE (vancomycin-resistant Enterococcus faecalis)  was shown using L. angustifolia oil at a concentration of less than 1%.[32]
It has also been suggested that vapour treatment is far more effective than solution treatment for inhibiting microbial growth using minute quantities of the essential oil. [33]
The growth of the fungus Botrytis cinerea, that causes fungal disease in wine grapes, was inhibited using 1% and 10% concentrations of L. angustifolia oil [34].
A similar effect of lavender oil was seen in the inhibition of growth of the mycelia of Aspergillus fumigatus [35], known to cause aspergillosis.
Combination of lavender essential oil with other essential oils such as that of Cinnamomum zeylanicum and Citrus sinensis, in a 1:1 ratio, showed antimicrobial action against Candida albicans and Staphylococcus aureus, responsible for causing candidiasis and staph infection, respectively. [36]
Due to its antibacterial activity, lavender oil is also used to treat acne and is added to acne curing creams. [37]
Additionally, research carried out on adolescents suffering from acne showed that topical application of lavender essential oil had antibacterial activity against Propionibacterium acnes, thus reducing the acne considerably, and improving the general tone of the skin. [38]
6. It may have Antioxidant and Neuroprotective Effects
Confidence: Moderate
In a study carried out in scopolamine-induced oxidative stress in the brains of Wistar rats, an increase in the activity of antioxidant enzymes like superoxide dismutase (SOD), glutathione peroxidase (GPX) and catalase (CAT) was seen, after subacute exposure to lavender oils.
Reduced levels of Glutathione, malondialdehyde level and decreased DNA cleavage patterns indicated the oil's antioxidant and antiapoptotic activity, suggesting its neuroprotective effects. [39]
Inflammatory responses like pleurisy (inflammation of the lungs and chest cavity) induced by carrageenan were reduced after treatment with lavender essential oil and a similar response was seen in the croton oil-induced ear oedema model in rats. [40]
Another animal study carried out on rats showed that treatment with lavender essential oil significantly reduced the infarct size, brain oedema, and ameliorated the functional outcome after cerebral ischemia.[41]
Lavender oil has also been proven to be helpful in improving the cognitive function of patients suffering from dementia, which may be a symptom of Alzheimer's disease. [42]
7. It may have wound Healing Properties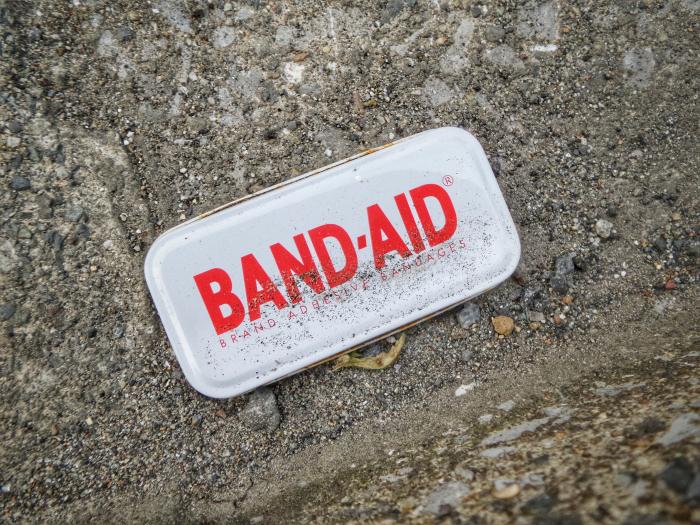 Confidence: Moderate
Wound healing mechanism, using lavender essential oil, has been demonstrated via a study carried out on rats on which circular full-thickness wounds were produced.
The results indicated an increase in type 3 and type 1 collagen synthesis, differentiation of fibroblasts and up-regulation of TGF-β, that promotes wound healing. [43]
In a clinical trial carried out on 120 primiparous women with singleton pregnancy, who had undergone episiotomy, redness observed at the site of surgery was lesser in case of subjects treated with lavender oil, compared to subjects not treated with lavender oil. [44]
In another pre-clinical study carried out on rats, it was seen that the wound site displayed no signs of oedema, discharge or local infection, on being treated with lavender oil. [45]
8. It may Improve Hair Quality and can be used for the Treatment of Hair Loss
Confidence: Moderate
In a study carried out in patients suffering from alopecia areata, a mix of essential oils that contained lavender oil was massaged onto the scalp daily, that caused a significant improvement in growth of hair, as compared to the control group. [46]
Treatment with lavender oil in female C57BL/6 mice showed a substantial hair growth-promoting effect, both morphologically and histologically, after its topical application on the back of the mice, 5 times a week for 4 weeks. [47]
9. May help in the treatment of Diabetes
Confidence: Low
In a study carried out using alloxan-induced diabetic rats, it was observed that oil extracted from Lavandula stoechas inhibited the increase in blood glucose levels and caused a decrease in the activity of antioxidant enzymes. [48]
Another in vitro study carried out demonstrated the inhibition of hormone sensitive lipase (HSL) and pancreatic lipase (PL), on treatment with methanolic extract of L. angustifolia, this activity correlating with the inhibitory pattern of orlistat, a drug used for treating diabetic dyslipidemia. [49]
10. May help in Palliative Cancer Care
Confidence: Low
It has been shown that aromatherapy with lavender oil can reduce pain, depression, anxiety and stress levels in patients suffering from malignant brain tumors. [50]
Dosage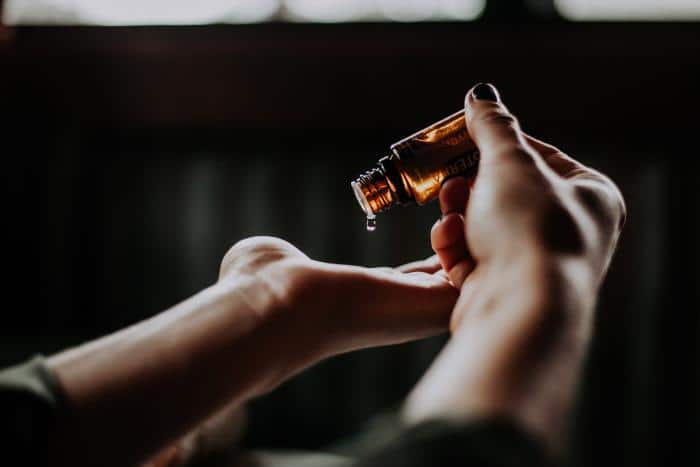 Recommended dietary intake of supplemental lavender essential oil is 80 – 160 mg containing 25 – 46% linalool, for 6-10 weeks.
For aromatherapy, 30 minutes is the average time of dosing in a well-ventilated room.
For menstrual pain, 3 drops of oil can be applied to the hand and inhaled every 6 hours.
For anxiety,  8 drops of an oil blend containing 2% lavender can be applied to a cotton pad and inhaled every 15 min, twice weekly for 4 weeks.
2 drops of 2% lavender essence can be applied to the inside of an oxygen face mask and inhaled for 3 minutes at 3, 8, and 16 hours after receiving pain-relievers for C-section pain.
The topical application should involve the use of only a few (2-3) drops of the essential oil, as there may be a possibility of skin agitation, allergic reaction or damage. [51]
Precautions
Interactions with Drugs
Lavender essential oil taken with other sedatives like barbiturates may cause too much sleepiness and must be avoided [45].
Some such sedatives are amobarbital (Amytal), butabarbital (Butisol), mephobarbital (Mebaral), pentobarbital (Nembutal), phenobarbital (Luminal), secobarbital (Seconal).
CNS depressants like clonazepam (Klonopin), lorazepam (Ativan), phenobarbital (Donnatal), zolpidem (Ambien) may also cause adverse effects if taken with lavender essential oil. [52]
Children
It is possibly unsafe for boys, as the use of lavender oil before puberty may cause prepubertal gynaecomastia, an abnormal breast growth, due to disruption of hormonal activity in their body. [53]
Pregnancy and breast-feeding
There is not enough evidence of any adverse events occurring in this case, but it is best to avoid its use during this period.
Surgery
Its use must be stopped 2 weeks prior to surgery, as its interaction with anaesthetics may lead to slowing down of the central nervous system.
Side effects
Oral intake may cause constipation, headache and an increase in appetite. Topical application may sometimes lead to irritation. [54]
FAQs