It`s not always to love or romance that breaks your heart.
According to the Dr. A. Kader Sahib Ashraf statistics every minute, four people die of heart attack.
The most common age group is between 30-50 years and the most common causes are smoking, high cholesterol levels, hypertension, obesity, stress, and many others.
This problem is multiplying rapidly mostly in rural areas due to lack of awareness and the high cost of treatment.
To deal with these issues the government should start taking an urgent step.
And we are doing the same thing by spreading the general information to improve your heart health.
Coconut Water for Heart - 
How?
Coconut water is the most popular crystal clear drink available in tropical countries like India, Brazil, and South East Asia.
Coconut water demand is rising continuously after getting supported by many athletes and superstars for its incredible benefits.
It is refreshing and better than other sugary drinks as it is natural fat and cholesterol free, low in calories and high in potassium than other sports drinks.
Apart from this it also has other golden benefits like it is rich in cytokinins which have anti-aging and anti-cancer effects on human's health.
Coconut water is also rich in electrolytes which are responsible for signaling of heart, muscles and nervous system.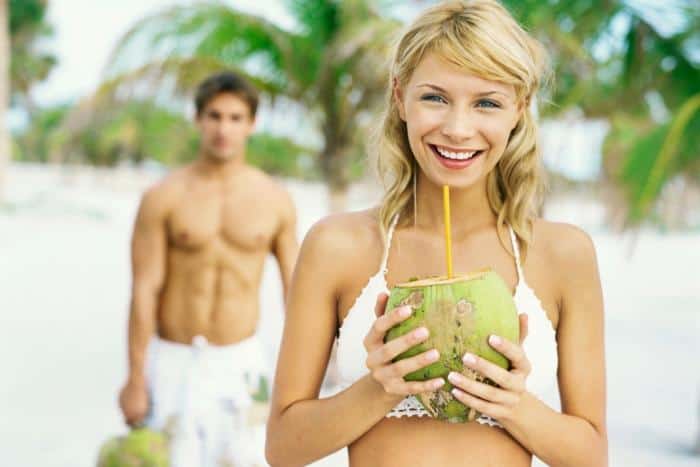 Coconut water for heart health - What research says
Considering normal humans diet cholesterol amount in your diet gives the information about your heart health.
Coconut water has an amazing nutritional profile containing 0 % cholesterol and Trans fats which are not good for heart health.
Coconut water is one of the most favorite drinks these days for a healthy heart. As it is rich in potassium which counteracts the sodium effects in preventing heart issues.
It`s natural heart booster as it is rich in electrolytes. It has 15 times more potassium than any other sports drink. It is the most important positive ion which is responsible for regulating heart muscles.
It is famous as a heart tonic in Jamaica.
Cytokinins present in coconut water helps in regulating the heart muscles more actively and lower down the risk of blood clots.
In more study coconut water had shown promising results in stopping heart attacks.
Dr Bruce Fife, director of the Coconut Research Center and author of Coconut Water For Health And Healing confirms that coconut water has shown promising results in reducing the risk of heart attacks and strokes and lowering high blood pressures.
Moreover, it also helps in improving blood circulation.
Coconut water is nature perfect drink for heart patients.
In one of the studies published in 2006, showed the effect of feeding coconut water on lipid metabolism.
The experiments were done on Male albino rats. They were fed both tender and mature coconut water at the rate of 4ml per 100 gram.
There was total decrease in lipid content i.e. very low-density lipoprotein (VLDL) + low-density lipoprotein (LDL) cholesterol, and triglycerides in the tissues of coconut water fed in cholesterol experimented rats.
 The conclusion that the enzymes responsible to cut bad lipids are down-regulated in presence of coconut water.
In similar kind of study the comparison of coconut water and lipid-lowering drug (lovastatin) was analyzed. The sample size for the study was as coconut water (4ml/100g body weight) with a lipid-lowering drug, lovastatin (0.1/100g diet) in rats fed fat-cholesterol enriched diet for 45 days.
Both coconut water and lipid-lowering drug showed promising results by decreasing the total cholesterol level.
There is a positive effect of coconut water and lovastatin on lipid maintenance as it successfully downregulated the enzyme activities of lipogenic enzymes and increased HMG CoA reductase and lipoprotein lipase activity.
Their drug and coconut water had similar effects in lowering the lipid content in total.
In a study done on nocturnal animal rats by Dr T Rajamohan and Dr P Anurag in the University of Kerala showed that rodents fed with tender coconut water were resistant to heart attacks and had a low accumulation of cholesterol.
The experimentation done was done on a batch of 24 rats divided equally. One half was fed with tender coconut water whereas the other half was not fed.
Therefore coconut fluid mixture of different proteins and minerals showed promising results against heart attacks.
Do not confuse coconut water with coconut oil that is extracted from the flesh or meat part of coconut shell. Coconut water is a wonderful drink having a perfect composition of minerals which is showing promising results for heart health.
Apart from a heart attack, there are other heart issues like heartburn which is generally due to less functioning digestive enzymes.
One of the bloggers sharing his positive thoughts on coconut water. He said that the coconut water was very beneficial during heartburn and reflux problem.
He consumed two cups of coconut fluid to retard the heartburn completely.   Other than this some were getting sicker and tired of taking drugs like example Omeprazole or digestive enzymes like Betaine HCL for heartburn. People are now generally consuming a combination of coconut water along with these drugs.
In 2013, a report was published by American Heart Association that 33% people suffering from high blood pressure problem have a high risk of heart attacks. 74% patients of chronic heart failure always had the elevation in their blood pressure.
Not only, but it also has negative impacts on Kidney disorders.
According to the study, the new lifestyle is a combination of smoking, no physical activities, sitting in a room with your laptop, high-fat diet eating mostly in restaurants etc.
Doctors advise people to change their some of the life factors like consuming healthy diet having coconut water, yogurt, grape, papaya, Vitamin C, omega fatty acids etc.
The synergic effect of a good diet and exercise will bring the positive change in the near future.
Study of tender coconut water was done on hypertensive rats. Rats were fed with (4 mL/100 g of body weight) of coconut water for 21 Days. Blood pressure was observed carefully after every three days.
Many other parameters were checked to confirm the results like plasma glucose and insulin, serum triglycerides and free fatty acids, lipid peroxidation markers (MDA, hydroperoxides and conjugated dienes).
Tender coconut water was successful in reducing the systolic blood pressure and a total content of free triglycerides and free fatty acids. The study proves that coconut water is beneficial for heart health by up-regulating the antioxidant activities and retarding the lipid peroxidation.
The main metabolism of coconut water in controlling the heart attack is that it lowers down the bad lipid or oil i.e. LDL, VLDL and triglycerides and up-regulates the good lipid i.e. HDL.
One of the studies was done on 21 humans. They were fed with corn flakes as the control food, oat bran flakes as the reference food, and corn flakes with 15% and 25% dietary fiber from coconut flakes.
The bad was reduced in all food except the corn flakes whereas triglycerides was also reduced in all the test samples. Therefore it proves that even coconut flour is good for reducing the total serum i.e. bad lipid.
Precautions
There are not many possible side effects reported for coconut water in adults and children both.
There have been some results that coconut water reduces that blood pressure so patients with low blood pressure should consult the doctors before consuming it for medical purpose. 
Do not consume coconut fluid before or after two weeks of surgery as it may interfere with blood circulation.
Conclusion
The present research gives the promising results of using coconut water for a healthy heart.
Coconut water is a nutritional beverage which is now also considered better than other sports drinks is linked closely with lipid metabolism.
As shown by many researchers while experimenting on rats that coconut water is up-regulating the good lipid i.e. HDL whereas inhibiting the bad lipid i.e. VDL and Triglycerides.