Acne is one of the most common chronic skin disorder affecting millions of people across the globe.
It is characterized by the outbreak of pimples, whiteheads, blackheads, and inflammations along with redness and marks on the skin.
With age and over time, a lot of new medicines have been developed to prevent, if not completely cure, the problem of acne.
This article shall discuss the effectiveness of topical antiseptic, betadine, in the treatment of acne breakouts and will also dwell upon the experience people have had while using it.
What is Betadine?
Chemically known as Povidone iodine, betadine is topical antiseptic formed of two kinds of complex chemicals.
The first one is iodine which is present in the concentration of about 9% to 12% and the second is povidone.
This topical is also otherwise known as a topical iodine antiseptic.
This is often used in the treatment of minor infections, cuts, wounds, and burns.
Betadine, as such is a form of topical antibiotic that facilitates healing.
How does Betadine Helps in Acne Treatment?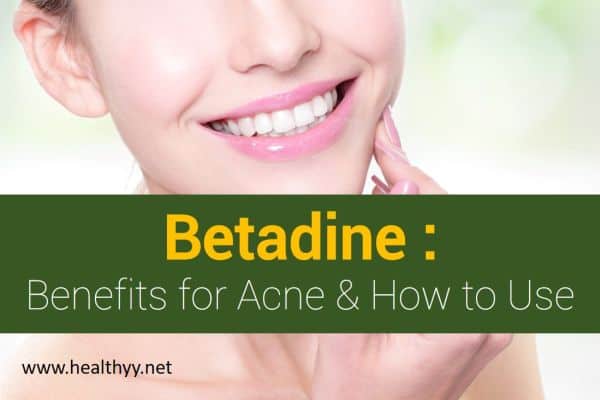 Betadine is an anti biotic . It tends to slow down as well as stop the growth of acne-causing P.acne bacteria and destroy them completely so that the blocked pores are unclogged.
The combination of these two complex chemicals in exhibiting antibacterial properties is particularly known because they are extremely effective against resistant microbes or bacteria.
Its antiseptic property further tends to facilitate speeding up of the healing process and thereby helps in the skin damaged due to the breakouts.
Betadine Dosage for Acne
The dose depends on the age, gender and seriousness of the condition.
However since this particular condition requires a topical application, a thin film can be applied over the affected area.
Storage
It should be stored at a temperature below 25 degree Celsius.
Application
betadine can be used as a spot treatment when dealing with acne. However, you must make sure to clean the spot and your face before applying it.
If you wish you can cover this with a sterilized bandage but it is usually advisable not to do so when dealing with acne pimples. It is better to leave them uncovered.
Benefits of Using betadine
betadine is effectively used in the following cases
Burns
Cuts
Wounds
Skin infection
Rashes
Redness
Possible Side Effects
Though extremely rare, using betadine can have the following side effects
It may cause redness and irritation on the area applied.
It can cause a burning or stinging sensation.
It can cause hair bumps.
It may lead to hearing and balancing problem in which case a doctor should be consulted.
It can cause an increase or decrease in the amount of urine output in which case the doctor should be consulted.
Use over a long period of time and very regularly can lead to the development of fungal infection or some other skin infections. Such cases are quite rare though.
An allergic reaction can include rash, itching, swelling, nausea, dizziness and breathing problems.
Precautions while using Betadine
In order to ensure complete and maximum effectiveness of the treatment, you need to maintain certain precautions which are as follows
You must inform the doctor about any kind of allergy that you may have from any of the active or inactive ingredients in the product
You must inform your doctor about your medical history especially if you have had any kind of skin infection before
It is not confirmed if this betadine can be passed on in the breast milk, therefore, it is advised that you avoid using it while nursing a baby
Its safety during pregnancy has not been determined and is therefore advised to avoid its use
Inform your doctor about all the prescriptive/nonprescriptive medications/ drugs and herbal supplements that you are currently taking
Do not use it on severe burns and punctured wounds
Do not use it in case of an allergy. It is usually advised that you do a patch test to check for allergies
Do not use it over large areas of the body
Drug interaction
betadine is known to have interacted with lithium and if used together can affect a severe side effect.
Customer Review of Using Betadine
We did an analysis of online consumer reviews to determine the efficacy of betadine in treating acne based on what the consumers have to say about it.
Here is a summary of what they liked or disliked about the product.
What they liked about it
Inflamed pimple
Most consumers said that using betadine as a spot treatment helped in reducing their inflamed pimples.
It has generally been helpful in reducing the size of a pimple as well as in reducing inflammation.
No burning
Unlike most other forms of topical acne treatments, betadine does not have a stinging or burning sensation on application.
This motivated a lot of consumers to go ahead with the user rather than withdraw midway which is often a possibility because of the uneasiness it creates.
No dryness
Most consumers were happy that betadine did not make their skin dry during or after application.
On the other hand, it made their skin softer. This was an added benefit to the treatment.
What they did not like about it
Dullness
A few con summers complained that betadine made their skin dull rather than adding a glow or shine to it. This was extremely rare though.
Summary
betadine with its various antiseptic and antibacterial properties as well as its peculiar ability to offer a non-resistant fight to the microbes stands out as one of the most widely used topical treatments for acne breakouts.
It does not tend to make your skin dry and has negligible side effects.
The cost is also very less and it does not burden the pocket to try this treatment once, for all its effectiveness established through experience.