Arthritis is an inflammatory condition that mainly affects the joints and the area around the joints.
It causes a joint swelling, redness and stiffness of the joints due to inflammation which may limit the patient from walking and performing daily activities.
There are many different types of arthritis.
The two most common types of arthritis are Rheumatoid Arthritis and Osteoarthritis.
Rheumatoid Arthritis is a condition where the body's self-defense mechanism attacks its own cells by mistake and this leads to inflammation and pain of the joints.
Osteoarthritis is a degenerative condition that affects mostly older individuals. There is physical damage to the bone and the surrounding tissues.
A variety of non-drug approaches like physiotherapy, heat therapy, cold therapy, massage, etc., has been proposed in the management of arthritis and one such method is the use of essential oils which are obtained from plants.
Numerous essential oils are known to be beneficial in arthritis, one of which is known as Frankincense oil. Before discussing its benefits let us learn more about this oil and how its obtained.
What is Frankincense Oil?
Frankincense is a French word that means "pure incense".
Frankincense Oil, also known as olibanum is an extract obtained from the shrubs found in the Red Sea, North East Africa, India, China, and the Middle East.
Frankincense oil is procured by making an incision to the bark of these shrubs and collecting the resulting gummy-resinous extract exudate which is further purified and standardized.
Frankincense oil has been used for religious ceremonies for centuries in India and China.
It has been in long-term use in various traditional Ayurvedic and Chinese medicines owing to its great health benefits.
The benefits of this oil are many including stress relief, anxiety reduction, pain relief, immunity boosting, anti-fungal, anti-microbial and anti-inflammatory effects.
It has also been identified to possess anti-cancer properties.
Benefits of Frankincense Oil in Arthritis
Frankincense oil can help in arthritis in several ways. Frankincense oil has been used for centuries to relieve joint pain and inflammation.
Present research confirms its benefits in arthritis due to its anti-inflammatory effect and antioxidant properties.
It also benefits in reducing the pain and its effects are comparable to that of some painkillers. Aromatherapy with this oil can be used to fight stress and depression in arthritis patients.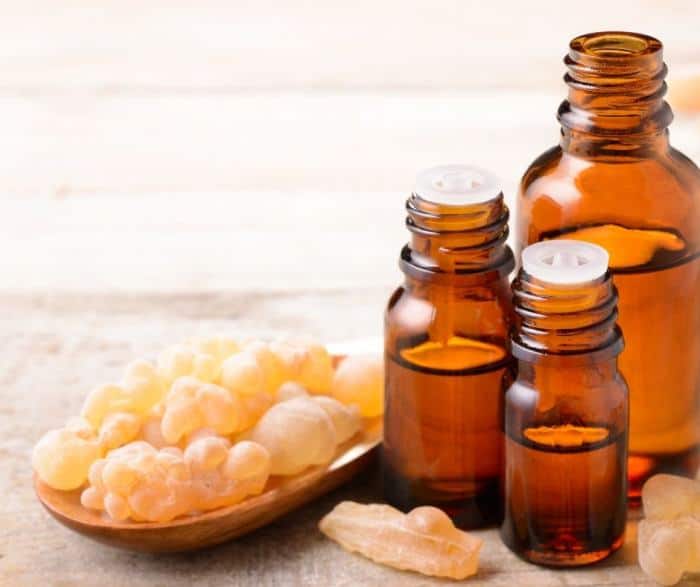 1. Frankincense Oil Provides Anti-inflammatory effect
'Proinflammatory cytokines' are signalling chemicals that are released from the immune cells which activate the inflammatory mediators that cause inflammation.
Frankincense oil contains chemicals called as terpenes (Boswellic acid) and related compounds which is responsible for reducing these proinflammatory chemicals and helps in reduction of inflammation in the body.
Frankincense oil also reduces the formation of inflammatory mediators which further contribute to the alleviation of inflammation.
An animal study conducted by Shulan Su et. al. also confirmed the benefits of frankincense oil in reducing inflammation by the suppressing these chemical pathways in the body.
Although, many research studies suggest the anti-inflammatory effect of this oil in various conditions strong evidence from clinical trials in arthritis patients are lacking.
What does this mean?  'Proinflammatory cytokines' and 'Inflammatory mediators' are the two types of chemicals in the body which brings about inflammation. Frankincense oil contains compounds which reduce these chemicals in the body thus reducing inflammation.
2. Reduces Pain and Improves Functionality
Aromatherapy, where essential oils are used topically or by inhalation has been proven to effectively reduce pain along with other usual therapies.
Kimmatkara et al. conducted a study in 30 arthritic patients which provided proof that frankincense oil reduced knee pain, decreased the frequency of joint swelling and increased walking distance.
A study involving 358 arthritis patients showed that the use of a preparation of frankincense oil along with 3 other herbals showed a significant improvement in the pain scores of the patients when compared with placebo.
Research also shows that frankincense oil reduces the joint stiffness and prevent further damage to the joints in osteoarthritis patients.
Frankincense oil has been demonstrated to reduce pain and improve arthritis scores in animal studies as well.
These studies indicate the potential benefits of this oil in arthritis.
What does this mean? Research suggests that Frankincense oil can reduce pain, joint stiffness and improve the walking distance of arthritis patients.
3. Frankincense Oil is a Good Antioxidant
During the conversion of food to energy free radicals are generated which cause damage to the cells and this leads to a condition called oxidative stress.
Antioxidants are substances which combat these free radicals and reduce the oxidative stress.
Arthritis is a condition where there is an increase in free radicals in the body and there is a reduced concentration of antioxidants in the joints that can lead to oxidative stress.
Studies have shown the presence of antioxidant compounds in frankincense oil. These antioxidants can benefit arthritis patients by reducing the oxidative stress in the body .
What does this mean?  Frankincense oil has antioxidant properties which helps in the reduction of oxidative stress in the arthritis patients.
4. Frankincense Oil Intake Can Reduce the Dose of Pain Medication
Frankincense oil can reduce pain in arthritis and its pain-relieving activities is comparable to other pain-relieving drugs (Diclofenac) used for pain relief .
A research study which compared the treatment of arthritis with a non-steroidal anti-inflammatory drug ( NSAID which is used for pain) and frankincense extract.
This study revealed that the pain-relieving effect of frankincense was present upto one month after discontinuation of the supplement and the effect of NSAID drug wore off immediately after stopping the drug.
Therefore, the use of analgesic medication with harmful side effects can be avoided or the dose can be reduced by using frankincense oil along with other medications .
What does this mean? The effect of Frankincense oil in arthritis patient is comparable to that of various analgesic medication. Using this essential oil can drastically reduce the need for painkillers.
5. Reduce stress and Calming the Mind
Arthritis is a debilitating condition can lead to stress, mental unrest, and depression in patients. Out of the various methods to control stress aromatherapy is one such method.
A variety of essential oils can be used for this purpose including frankincense oil. Frankincense oil aromatherapy can reduce stress and relieve tension.
Frankincense oil can be used on a diffuser by diluting with vegetable oil and allowing it to diffuse through the room for some time.
Inhalation of this is known to impart a calming effect.
What does this mean? Frankincense oil can be used for aromatherapy to reduce stress and depression in arthritis patients.
How to use Frankincense Oil and How Much to Take
Frankincense oil is mainly available in the form of tablets or capsules for oral administration.
For the reduction of inflammation and antioxidant activity, it is best taken orally.
The dose of this tablet or capsule containing 60% boswellic extracts is 300-600 mg three times daily.
The dose of the tablet containing 30-40% boswellic extracts is 300-500 mg three times daily.
It is important to check the composition of the tablet or capsules as the dose might vary depending on the percentage of extracts.
Strictly follow the instruction given by the pharmacist or medical practitioner before intake.
Frankincense oil can also be used topically on the joints to reduce pain.
To apply onto the skin, mix one drop of oil in a teaspoon of vegetable oil and massage gently on the joints.
Precautions
Frankincense extract has been in use for a long period of time and it has been rendered safe and has not caused any major side effects or adverse reactions when taken internally at the recommended dose for arthritis.
However, it must be noted that rarely some mild side effects such as nausea, acid reflux, and gastrointestinal upset may occasionally occur upon oral intake.
Before taking this supplement, one must consult a physician to determine the exact dosing and need as per the patients' individual needs.
Conclusion
Frankincense oil is an essential oil which has a history of long-standing use for its pain-relieving properties in Ayurveda and Chinese medicine.
Research studies from the modern days have confirmed the presence of substances that impart these properties. It is also found to improve the physical activity and subside stiffness of joints.
Along with pain relief, frankincense oil also acts as a potent antioxidant that reduces the oxidative stress in arthritis patients.
It is well identified to be a good anti-inflammatory agent that reduces inflammation, improve mood and reduce stress in arthritis.
Frankincense oil or the extract can be suggested as an excellent supplement due to its proven benefits and minimal toxicity when compared with other painkillers which are generally used for the pain management.