Chocolate is good for you. Yes and we mean it.
But whether it is good for weight loss or not is something you will learn by the end of this article.
The topic we are diving into today is a very controversial topic and most of you might pass off this article as another piece of confusing information.
So let me intimate you in advance that this article is purely based on facts presented by scientific papers.
Also, it is not one of those 'scientific articles' that were employed to fool you and expose the truth behind publishing scientific papers.
Most of the research quoted in this article has been evaluated in terms of study population and the famous 'p' value which mentions how 'statistically significant' the results are.
It is time we turned the page over the age-old idea that has been drilled into our mind that 'Chocolate is the bad guy' and see if we can establish worthwhile links between chocolate and BMI.
What do you Exactly Mean by Chocolate?
The origin of chocolate dates back to 2,000 years earlier or even older.
It was originally served as a beverage though today we have a treasure of its variants. Thank God for such blissful food!
Chocolate is derived from the seeds of fruit 'Theobroma cacao' fruit which translates as 'food for god'.
Earlier the sweet pulp surrounding the cacao beans was extracted and fermented and served as an alcoholic beverage.
The term 'cacao' refers to the plant and beans while 'chocolate' is obtained by processing the seeds. The term 'cocoa' refers to chocolate in powdered form.
When you see a cacao bean, it is not one of the appetizing food.
Also, it is not sweet. These beans just like 'coffee beans' have to be roasted and fermented. So what all goes into making chocolate?
Firstly there is cocoa butter which is the natural vegetable oil present in the beans that gives it the smooth texture.
Then there is chocolate liquor (it's not alcoholic).
Once roasted and fermented, the cocoa nibs are extracted from the beans and ground to form a paste which is called chocolate liquor.
The paste is liquefied and can be poured. It contains 50-58% cocoa butter.
Then, of course, there is some form of sugar. Based on chocolate liquor and sugar concentration, you get sweet, semisweet and unsweetened chocolate.
White chocolate is devoid of cocoa solids.
Sometimes lecithin, a fat-like compound obtained for soybean is used as a substitute for cocoa butter.
Additionally, there is vanilla or vanillin used as a flavoring additive.
So in this article when we say chocolate, we are talking about pure chocolate, mostly dark, and not the different confectionaries which contain caramel, biscuit wafers, nuts and so on.
Why Does Chocolate Feel like Food for the Soul?
So what makes chocolate feel like a superfood.
Cocoa contains large concentrations of flavonoids, epicatechin, catechin, and procyanidins. Cocoa has the maximum levels of flavonoids, greater than even tea and wine.
The fat predominantly found in dark chocolate is cocoa butter which contains approximately 33% oleic acid(monounsaturated), 25% palmitic acid (saturated), and 33% stearic acid (saturated)and none of these have negative effects on blood lipids.
Obviously, it is rich in fat, sugar, and carbohydrate which is why it boosts energy so efficiently.
Apart from that here is the list of compounds present in chocolate that instantly elevate your mood:
Theobromine, theophylline, and caffeine: These act as nervous system stimulants. Dark chocolate contains 5-10 mg of caffeine which is around the same content found in decaffeinated coffee.
Epicatechin: It is the antioxidant that imparts bitterness to the dark chocolate. It also reverses depression.
Tryptamine:  Its structure is similar to neurotransmitters found in the brain and supports increased production of 'feel good' chemicals- serotonin and dopamine.
Phenylethylamine:  This chemical is said to be released when we fall in love and is a strong antidepressant and mood elevator.
Anandamide:  It was discovered in 1992 and named after Sanskrit word 'ananda' which means bliss. It activates the same pathway as psychoactive agents in marijuana and helps transmit 'feel good' waves.
What is important to be noted here is that these chemicals are present in not so significant quantities in chocolate and the more the chocolate is processed, the lesser its bioactive ingredients.
Chocolate and Weight Loss
To get a clearer picture as to whether chocolate consumption helps with weight loss or not we will evaluate the studies that support and oppose this idea separately.
1. Chocolate helps in Weight loss
Here are the different studies that we came across which claim that chocolate consumption aids in weight loss.
Animal studies show that chocolate has anti-obesity potential
The idea as to whether chocolate helps in weight loss originated from some animal studies demonstrating its anti-obesity effect.
Cacao liquor rich in plant antioxidants (catechin, epicatechin, and procyanidin) is proven to prevent obesity caused by high-fat diet.
It suppressed hyperglycemia (extremely high levels of glucose) and fat accumulation. It also increased the activity of proteins that aid in lean mass development and reduce fat accumulation.
Antioxidants present in cocoa demonstrate anti-obesity action by suppressing the activity of genes and proteins involved fat metabolism and accumulation.
Fermentation and processing lead to the formation of different kinds of cocoa antioxidants.
Long chains or oligomers of such antioxidants are proven to be effective in preventing weight gain, fat mass and improving glucose metabolism.
A study showed that 8% cocoa powder supplementation to obese mice reduced insulin resistance, obesity-related inflammation, and fatty liver disease.
The mechanism behind this was the modulation of dietary fat absorption and influencing the activity of genes that regulate fat accumulation.
Cocoa polyphenol (antioxidant) extract is proven to prevent fat accumulation in fat cells or adipocytes by manipulating the activity of enzymes involved in it.
Habitual chocolate intake is linked with lower BMI
Dark chocolate is said to have a possible role in modulating obesity as it is proven to alter digestion and absorption of fats, influence genes involved in the production of fatty acids and promotes satiety.
Many studies have proven that chocolate consumption has beneficial effects on features of metabolic syndrome such as blood pressure and cholesterol levels, therefore it was hypothesized that it would positively influence BMI.
A cross sectional study was conducted to evaluate this hypothesis. The average BMI was around 28 and subjects consumed chocolate around 2.0-2.5 times a week and exercised three times a week.
Chocolate consumption frequency was associated with higher calorie and saturated fat consumption.
Yet chocolate consumption frequency was linked with lower BMI irrespective of adjustments for calories, saturated fats, and activity.
The researchers concluded that their finding validates the need for a randomized clinical trial on chocolate's metabolic effect.
And it definitely did, because this study was cross-sectional and did not take into account the presence of obesity.
A study was conducted in Europe to verify if higher chocolate consumption is associated with lower BMI and body fatness.
1,458 adolescents of the age 12-17 years were recruited for the study.
It was observed that higher consumption of chocolate was not only associated with lower BMI but also lower levels of body fat – both total and central fatness.
However, this study just establishes an association. It could be possible that those with high BMI and body fat refrain from eating chocolate to avoid weight gain.
Chocolate decreases body fat
A randomized cross over the clinical trial was conducted to evaluate the effects of dark chocolate consumption on blood pressure and cardiovascular risk factors.
During the experimental period, volunteers replaced the consumption of snacks with dark chocolate (49g/day) and in the control period, they reduced snacks without added chocolate.
Interestingly the participants experienced weight loss of 1 kg in the control period and not while consuming dark chocolate.
However, a decrease in body fat was seen even while consuming chocolate though the change was not significant.
Similarly another study demonstrated that regular consumption of cocoa product rich in fibre for 4 weeks results in a decrease in body fat without change in weight.
There is something called 'Normal Weight Obese syndrome'. It sounds pretty odd but it exists and is characterised by excessive body fat in a normal weight individual.
Such individuals are at increased risk of cardiovascular diseases and have a high concentration of circulating inflammatory chemicals.
Now a study was organized to assess the effect of dark chocolate consumption on cardiovascular risk factors in such individuals.
Out of 20 recruited female volunteers, 15 completed the study.
They were kept on an Italian Mediterranean diet for 14 days as the same researchers had previously proved that this diet has neutral effects on the blood lipids.
They were given 100g of dark chocolate (70% cocoa) to be consumed 50g as an afternoon snack and 50 g as evening snack or after dinner for 7 days. Improvement in cholesterol levels was observed.
But what's more important to us is that a reduction in abdomen circumference was also observed.
Surprisingly this intervention was of short duration and small population study but still, dark chocolate consumption showed favorable effects.
Chocolate promotes satiety
Controlling appetite or promoting satiety is one of the nutritional interventions directed towards managing obesity.
Liquid yogurt is found to be more satiating than chocolate bars but a chocolate milk drink is found to be more effective in controlling short term hunger than sweetened soda.
A study was conducted to evaluate the effects of dark or milk chocolate consumption on satiety. Volunteers were asked to consume either 100 g milk chocolate or dark chocolate.
They were more satiated and had lower prospects of food consumption after having dark chocolate rather than milk chocolate.
Energy intake in the prospective meal was 17% lower in dark chocolate group compared to milk chocolate and if calories of chocolate were taken into consideration still the energy intake was 8% lower in dark chocolate than milk chocolate group.
Another clinical trial also demonstrated that substituting dark chocolate for milk chocolate is more effective in inducing satiety during subsequent food intake and in this study also accounted for the calories of chocolate.
Dark chocolate used in the study had lower calories than milk chocolate.
Dark chocolate (85% cocoa) eating and smelling produces similar appetite suppression with reduced levels of ghrelin- 'the hunger hormone'.
Chocolate aids in improving insulin sensitivity
We all know that insulin is the hormone that controls our blood sugar levels.
Increased glucose consumption leads to spikes in insulin levels, which dramatically reduces blood glucose levels and lands up making you feel hungry.
Insulin also supports the conversion of glucose into fats and regulates storage and metabolism of fat.
Insulin resistance is a condition where the cells have become insensitive to insulin's activity and this leads to disproportionate accumulation of fats.
Short term administration of dark chocolate is found to better than white chocolate consumption in improving insulin sensitivity.
Another clinical trial demonstrated that dark chocolate rich in antioxidants has favorable effects on glucose metabolism and blood pressure in comparison to a chocolate place that was low on antioxidants and posed adverse effects.
Dark chocolate with 500mg antioxidants is found to be as effective as dark chocolate with 1000mg in improving blood sugar levels.
Chocolate improves healthy gut bacteria
We know that our gut contains bacteria and other organisms which help in digestion and generally obese individuals are likely to have impaired gut health.
40 g of dark chocolate consumed for 2 weeks regularly is found to decrease stress-induced changes in energy metabolism and improve the gut microflora in healthy individuals.
A report presented at the meeting of the American Chemical Society stated that dark chocolate improves gut microbiota.
The researchers said that there are healthy microbes in the intestines like Bifidobacterium and lactic acid bacteria which use dark chocolate to grow and ferment to form anti-inflammatory compounds.
The other bacteria in the intestines can cause stomach problems and inflammation.
They also suggested that combining dietary fibre with cocoa is likely to improve a person's overall health and help in breaking down cocoa's antioxidants into smaller molecules that can be easily absorbed.
What does this mean?

Cocoa has anti-obesity potential. Most of the studies claiming that chocolate indeed causes weight loss, promotes satiety and improves blood sugar level focus on dark chocolate. So consuming the right kind of chocolate can help in weight loss and help you combat the feeling of being deprived.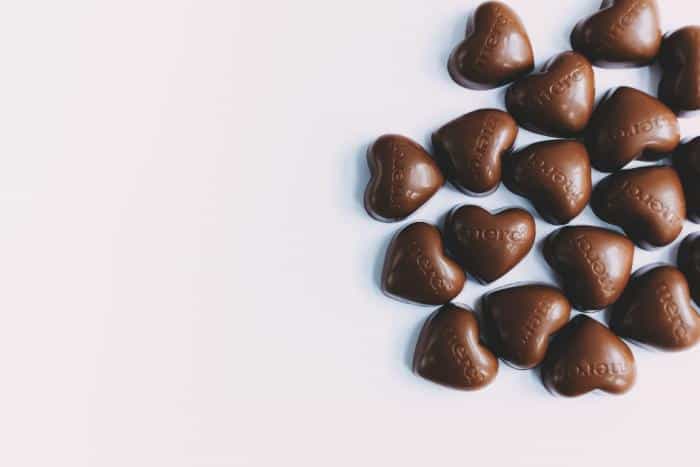 2. Chocolate causes weight gain
Now, these studies oppose the idea that chocolate helps in weight loss and in turn prove that chocolate can lead to weight gain in the future.
Chocolate restriction increases calorie intake
It is a general trend that when we are restricted or refrained from having a certain food item we tend to crave for it more.
And this stands true for chocolate restriction too.
A study demonstrated that restriction of chocolate in high chocolate consumers led to subsequently higher calorie consumption.
Those who were strongly restricted felt higher pangs of guilt and compensated by increasing their calorie intake in comparison to those who were mildly restricted.
Low-calorie diets are hard to stick to since there is an elimination of certain items that you crave for.
A study was conducted to check if it was safe (by safe we do not mean that it does have a negative effect on body weight) to include a sweet snack in a low-calorie diet.
26 overweight or obese women were started on a low-calorie diet with either daily dark chocolate snack or non-chocolate snack.
Reduced energy intake was observed in both.
Women in both the dark chocolate snack and non-chocolate snack groups, respectively, experienced decreases in body weight (-5.1 vs -5.1 kg), hip circumference (-5.8 vs -5.4 cm), waist circumference (-5.7 vs -3.5 cm), fat mass (-3.9 vs -3.6 kg), and body fat percentage (-3.4% vs -3.1%).
Since there is a low-calorie diet involved, we can't conclude that dark chocolate consumption causes weight loss but definitely, it does not hamper the weight reducing an effect of low-calorie diets.
Habitual chocolate consumption leads to weight gain in future
The studies linking chocolate consumption with low BMI are cross-sectional studies: they record data available at the present moment not over a period of time.
The study we are now going to talk about took both prospective (over a period of time) and cross-sectional (at present) aspects into consideration.
Around 16,000 volunteers of the age 45-64 years were recruited and the study duration was 6 years. Chocolate consumption was recorded as the frequency of eating 28g of chocolate bars.
It was observed that participants who ate chocolate 4-6 times a month and at least weekly compared to those who ate once a month experienced an increase in BMI of 0.26 and 0.39 respectively over the 6 year period.
This study also covered the diet and physical activity part of the volunteers.
Also, the individuals consuming more chocolate were younger, thinner, females, consumed less alcohol, had a diet rich in calories and fat and had less of fruits and vegetables.
The cross-sectional study showed that habitual chocolate consumption was associated with low BMI only in individuals who are not affected by obesity-related illness and the p-value was significant (p=0.05).
Those who had faced obesity-related illnesses had changed their dietary habits and therefore did not consume much chocolate.
However, a drawback of this study (a drawback for us to make an interpretation) was that it did not differentiate the type of chocolate consumed.  Milk, white and plain chocolate were all generalized.
A recent study published in Obesity (Silver Spring) Journal, March 2015 showed that chocolate candy consumption was associated with a three-year weight gain.
107,243 women of age 50-79 years were recruited.
Here chocolate consumption referred to consumption of 'chocolate candy and chocolate bar'.
It was observed that compared to those who had chocolate consumption frequency of less than once a month those who consumed in the range once a month to thrice a week experienced weight gain in the range of 0.7 to 1 kg within the three-year span.
Chocolate candy intake increased with an increase in BMI and was inversely associated with age.
What do we understand by all this?

In light of this confusing scientific evidence it is hard to deny that may be 'Dark chocolate helps in weight loss'.
The Jekyll-Hyde of Chocolate
Just like fats and carbohydrates, there are good and bad chocolates.
Cacoa beans are rich in antioxidants but as they undergo fermentation the antioxidant level reduces.
The next best content of antioxidants is found in cocoa powder. With further processing and addition of fats and sugars, you get good and bad chocolates.
Here is what you should do:
Avoid: Milk chocolate or any chocolate that is low in cocoa and cocoa solids. Avoid any chocolate candy which contains biscuit wafer, caramel and like substances.
Have: Dark chocolate with at least 70% cocoa. The darker the better. Addition of natural foods like berries and nuts is healthy.
Top Reasons why you should eat chocolate
It beyond the scope of this article to verify the health benefits of chocolate, but we thought that we would mention a few so that you could get to know chocolate is the good guy.
It improves antioxidant defenses and reduces oxidative stress (imbalance between prooxidant and antioxidant agents).
It lowers blood pressure.
It improves blood vessel function.
It exerts anti-diabetic effect.
It reduces stress and anxiety levels.
It can aid in the treatment of dementia and stroke.
Certain studies show that cocoa inhibits the growth of anticancer cells.
Dosage-  Seriously ?!
Absolutely! When you plan on using chocolate as a tool for weight loss you need to consume it in a fixed amount.
100g of dark chocolate has 546 calories while the same amount of milk chocolate has 535 calories. So if you have it in an unrestrained amount you are likely to gain weight.
Firstly make sure you have dark chocolate(70% or more cocoa) only and restricted to 1 oz or 28 grams a day.
However, we would say limit the intake to once or twice a week. If you can tolerate the taste of raw cacao then that's perhaps the best option.
Conclusion
Like promised, we have made it clearer to you that chocolate that is dark chocolate can aid in weight loss.
The weight gain caused by chocolate is typically due to the fat and sugar content present in it and also the amounts we eat it in.
If chocolate restriction hampers your low calorie diet, you can start consuming dark chocolate in small amounts.
Eventually, it will help you get rid of your sweet tooth. But chocolate without a diet and physical exercise cannot cause some weight loss miracle.
There is a good book on this called 'Eat chocolate, Lose weight' by Will Clover which might aid you in dealing with your chocolate fix and weight loss journey.