Natural oils are hydrophobic liquid extracts obtained from plants and they contain aroma rich compounds.
They are also called Essential oils/Volatile Oils.
They find great application in alternative medicine in Pharmacology and also in aromatherapy.
Natural oils also find application in skin and Hair treatments and are even used in oncology for cancer treatments.
But everyday applications of natural oils are mostly centered towards skin care treatment like acne, scars, allergies and stretch marks.
Let's see which natural oils can help with stretch marks.
Natural Oils which Help in Stretch Marks
Natural oils can help in several ways in improving skin health and keeping it hydrated and thus helping in the prevention and fading of existing stretch marks.
Further, natural oils help skin in various other ways to make it healthy.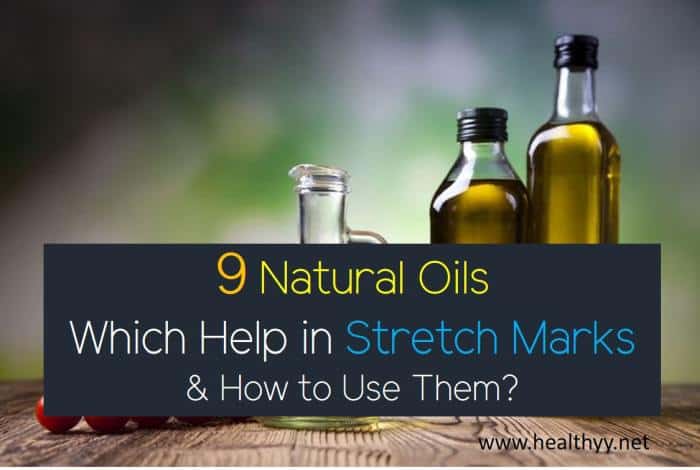 1. Coconut oil
Coconut Oil is basically composed of poly-unsaturated fatty acids and a high proportion of glycerides which help in moisturizing skin and helps to reduce scar wrinkles and stretch marks.
It also compensates for the protein loss in the skin. Generally, Soaps made from Coconut Oil are used for skin ailments.
Method of Application - The Coconut Oil is generally massaged over the skin for 2-3 times a day and successful results would be seen in a few months.
2. Olive oil
Olive Oil is basically a fatty liquid obtained from the olive. It is composed of tri- glyceride esters of Oleic acid and palmitic acid and stearic acid.
Compounds containing glyceroid derivatives are very much effective in treating Stretch marks. Apart from these, it is also rich in Vitamin A, E and D.
Method of application - The Olive Oil is gently massaged in the affected area so that all the vitamins are absorbed by the skin which helps to treat the stretch mark.
3. Lavender oil
Lavender Oil is obtained from the extracts of flower spikes of species of Lavender.
It is composed of linlool and linalyl acetate. There are two types of Lavender Oils – The lavender flower oil and the lavender spikes Oil.
Both the oils are used for skin care and treatment.
Method of Application- Generally Lavender oil is used along with Chamomile Oil and almond oil. This mixture is applied on to the areas of the stretch mark for 2- 3 times a day.
4. Rosehip oil
Rosehip Oil as the name suggests is obtained from the seed of various types of roses.
Though prominently used in perfumes along with rose oil, it is also used for Skin due to the presence of beta carotenoids, linool, phenyl acetate and glycolic acids and farnesol, provitamin A and retinol.
Due to the presence of retinoic acid components, it works well for acne and skin care.
Rosehip Oil is not used individually for acne as it is highly concentrated and does not work well alone.
Method of Application – Rosehip oil is initially applied to the stretch mark and this helps to remove the dead cells. After this coffee and sugar face pack is applied to lighten the skin and to regulate blood flow to remove the stretch marks.
5. Castor oil
The castor oil is obtained by pressing of the seeds of the castor plant. It is a source of ricinoleic acid, Oleic acid and linoleic acid which is very good for the skin.
It has great anti-microbial and anti-fungal properties which are used to treat acne and scars.
It is a source of Vitamin D hence good for rejuvenating the skin and helps to treat stretch marks.
Method of Application - Castor Oil is applied to the area and is massaged. A thin cloth is placed over it and is left over and later washed. This procedure has to be done every day to see positive results in a month.
6. Myrrh oil
Myrrh oil is obtained in the form of an aromatic resin from the thorny tree of the genus Commiphora which is an essential oil called Oleoresin
It was used by the ancient Egyptians for Skincare and treatment.
Generally, these Myrrh oil is usually obtained in the form of cream along with many other additives.
Method of Application – The Myrrh oil is used along with the Frankincense Oil and Geranium Oil. The Myrrh Oil, Geranium Oil and Frankincense Oil are mixed together and water is added to form a mask.
It is applied to the area and is left for 30 minutes. Later it is rinsed with warm water and dapped with a cloth.
7. Chamomile oil
The chamomile belongs to the daisy group which belongs to the family Asteraceae. The Chamomile Oil is extracted from the flowers of their genus.
The Chamomile oil is known for its antiseptic and anti-inflammatory properties which makes it viable for skin infections.
It is not recommended to use this oil during pregnancy.
Method of Application – It is usually available in the form of Creams or tablets. To make a stretch mark pack, coconut, Shea butter, Almond, Vitamin E oil and Chamomile Oil are mixed and lotion is made and applied to the stretch mark.
8. Frankincense oil
Frankincense Oil is obtained from the resin Boswellia carterii. It finds application in aromatherapy and skin care and is especially effective in treating stretch marks.
Methods of Application – It is usually combined with some other oil like jojoba oil or coconut oil and then used.
9. Geranium oil
This is known by the biological name Pelargonium graveolens and is known for its rich aroma.
The Geranium Oil works on improving the cellulite constitution of the skin hence used for the treatment of stretch marks. It is usually used in combination with other natural oils.
Limitations of natural oils for stretch mark treatment
While natural oils are known to provide benefits, there are some limitations:
Immediate Cure cannot be expected as the effect of the oil and the skin rejuvenation would take time.
Some oils like Myrrh oil, Geranium oil are highly expensive.
Some people may experience allergies and irritations due to their skin type
Some oils are not to be used during pregnancy due to their constituents.
Precautions
The oils should be brought from authenticated traders and it must be a licensed store. It is not advisable to use some oils during pregnancy due to their constituents.
Care should be taken while mixing because an excess of oils can pose a threat to the skin and may cause issues.
Better to always check with a dermatologist before using these oils.
Summary
Natural Oils are undoubtedly a good choice for stretch marks provided it is suitable for the individual's skin.
It is a natural source of treatment and is one with nature hence it would not have any side effects if used with caution.